Reviews of Home Audio Sound Bar Systems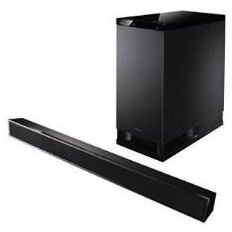 Home audio sound bars are perfect for people who have limited space and want big sound. In limited space, it can be difficult to set up a good speaker system because of the size of the speakers and the wiring necessary to hook them up. You won't have that problem with these great products. Another popular use for this kind of speaker setup is to replace the speakers on an HDTV. HDTV speakers are notoriously poor but, by adding a sound bar, you can overcome that with great audio.
Sony HT-CT150 3D Sound Bar System
Sony implements their Sony S-Master integrated amplifier and digital processor to give the illusion of real surround sound from the HT-CT150. The 300-watt system decodes Dolby Pro Logic II, Dolby Digital, and DTS. It comes with a universal remote so you don't have to leave your chair to adjust the settings. Other features include an HDMI repeater with pass-through for easier access of components and an audio return channel that reduces the number of wires need to hook up your components.
Samsung HW-C450 Sound Bar Speaker

This may be the premier sound bar. It is a 280-watt, 2.1 system, meaning it will support a subwoofer. The connection to the subwoofer is wireless so you don't have to worry about running wires to it. Two optical inputs guarantee the best sound connection available or, if you choose, you can use the analog input. The Samsung comes with a kit to mount it on the wall above, below or alongside your TV. That is perfect if you have a wall mounted TV because it eliminates the need for an entertainment stand.
Panasonic SC-HTB500 2.1-Channel Sound Bar Speaker System

This gem from Panasonic includes a wireless, down firing Kelton Subwoofer. That means you are going to get the full spectrum of sound and hear plenty of bass to round it all out. The unit will decode Dolby Pro Logic II, Dolby Digital and DTS, making sure you get clear, undistorted audio. A bamboo cone speaker is used to get the best and crispest dialogue possible. It features Audio Return Channel, a wall mount and a remote control.
Pyle PSBV400 6-Way 300-Watt Multi Source Sound Bar

Pyle has long been a name recognized by audio buffs for great products at affordable prices. This system goes a step farther than just being a speaker system. It includes an FM tuner, inputs for MP3s and three other inputs for other compatible devices. The unit offers a whopping 300 watts of power through two 4-inch woofers and four 3-inch full range speakers. A wall mount and remote control are included.
Polk Audio Surroundbar IHT 3000 Home Entertainment System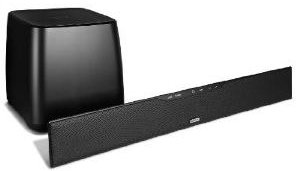 You can't have a best-of about speaker systems without including Polk. This 50-watt package includes a wireless subwoofer. Polk uses their exclusive Stereo Dimensional Array to provide digital surround sound from a small unit. They have included both optical digital and analog inputs. An optical cable is included. This unit is a good replacement for the tiny speakers that come with HDTVs.
Resouces
References and images: Amazon.com
The [Sony Sound Bar System](https://www.amazon.com/Sony-HT-CT150-Sound-Bar-System/dp/B003C1AO2I/ref=dp_return_2?ie=UTF8&n=172282&s=electronics /brihub02-20) is available at Amazon for $224.99
The Samsung Sound Bar Speaker is available at Amazon for $349.99
The Panasonic Sound Bar Speaker System is available at Amazon for $360
The Pyle Sound Bar is available at Amazon for $154.70
The Polk Audio Surroundbar is available at Amazon for $281.99