Make Your Media Center Easier to Enjoy With a Windows Media Center Remote Control

What is Windows Media Center?
Windows Media Center comes with some versions of Windows XP, Windows Vista and Windows 7. This application enables you to watch TV from your PC USB tuner or card, watch movies and videos or listen to your stored music or favorite radio stations with your USB radio tuner. It is the perfect solution for a home theater PC. To control this setup, you need a Windows Media Center remote control. The five best models on the market make it easy to enjoy the full potential of your multimedia PC.
The MediaGate GP-IR01BK
This certified Windows MCE remote control can only control the Windows Media Center. If you want to control other applications on your computer, you will need to install third-party software. Simply plug in the included receiver your PC and you are ready to enjoy your TV shows and movies. This Windows Media Center remote is the most cost effective solution for your media center setup. You can buy this remote from Amazon for $22.99
Keyspan Vista Media Center RF Remote Control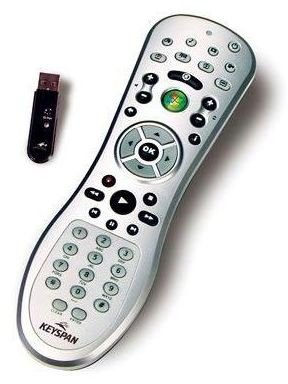 This is an RF remote, which means that it uses radio frequencies rather than infrared to control your PC. You do not need to have a direct line of sight with the receiver using this technology, which makes it even easier to use. It has a range of up to 90 feet, as well. The big Media Center button states the purpose of this remote. This remote is available on Amazon for $52.99.
Pinnacle Remote Kit for Windows Media Center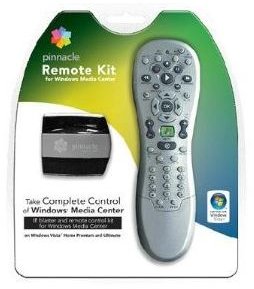 Pinnacle is a renowned manufacture of USB and card TV tuners for PC usage, so they have a lot of experience with this kind of technology. Their remote control comes with a USB IR receiver and an IR blaster that enables you to control your analogue or digital set-top box straight from the MCE. This capability makes it a very good choice at around $30.
Mediagate MCE Remote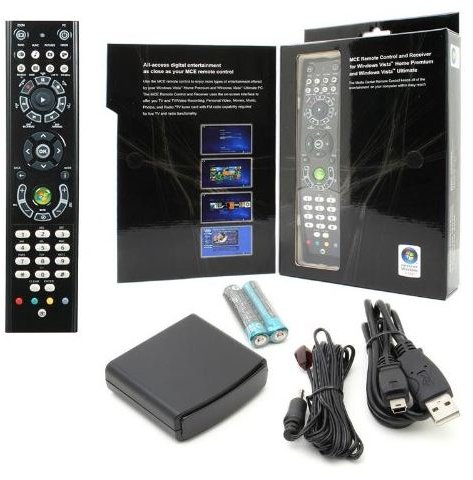 The Mediagate Windows remote control is another great solution. It is designed with sole purpose to be used with the MCE. It is two-in-one remote because it also enables you to control your television. It has a big Media Center button in the middle that will start the application when pressed. This is a great choice because of its low price and TV control function. This remote can be yours for $24.04 and you can buy it from Amazon.
Logitech Harmony 900

The Logitech Harmony 900 is a universal remote control that you can use with many devices. In fact, it can replace up to 15 remotes. The control transmits via RF wireless technology that controls devices without the direct line of sight required by IR remotes. It also has a great touchscreen feature with a colored display that will enhance your navigating experience. The buttons are backlit for easy usage in the dark. Another great aspect of this remote is that it comes with a recharging dock. This remote works with 225,000+ devices and there is an online library that will help you set up your remote. You can even record events from another unknown model and save it to your online account. It has one IR blaster and two IR mini blasters. All of these features come at a price, and this remote is the most expensive. For the features and capabilities it offers, the cost is worth it. This is definitely the best Windows Media Center remote control. You can buy the Logitech Harmony 900 from Amazon for $258.54
Reference
All images and product information gathered from respective manufacturers.
Amazon.com