Online Radio Tuner: The Nuts & Bolts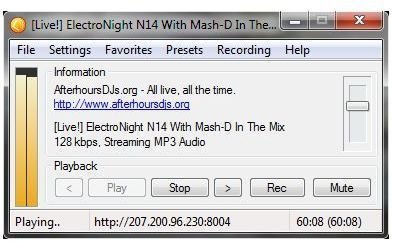 Listening to Internet radio is a breeze for anyone who's familiar with the World Wide Web. There are hundreds, if not thousands of stations out there, including those run by individuals. The genres and subgenres available are simply mindboggling. I stumbled upon a radio station just dedicated to birdsong!
You would also already know that the greatest advantage of Internet radio is you're not constrained by geography as you would be when it comes to terrestrial radio. You have access to Internet radio when you away from home or traveling overseas. All you need is a good Internet connection.
There are two ways of listening to Internet radio. The first method is by visiting the website of the particular radio station and click on the Play button on the streaming player. The other is you visit a website that aggregates all the radio stations, according to country, language or genre. An example would be Shoutcast, which at the time of writing has 45, 655 online radio stations.
If you don't fancy these two methods, especially if you don't want to wade through stations that don't interest you, you can rely on an online radio tuner, which makes the would certainly enhance your online radio listening pleasure with your home theater system..
Online Radio Tuner Features
So, what does an online radio tuner do? If you think, the sole purpose of an online radio tuner is to help you locate radio stations and save them as favorites for future listening, you're mistaken.
The most attractive feature of an online radio tuner is its ability to record what you're listening to. How many times have wished we could record what we are listening to but gave up the idea because we did not know how to go about it. With an online radio tuner, recording what you are listening to is almost child's play. For this reason alone, you should install a radio tuner in your computer
Other features that usually comes with an online radio tuner are Shoutcast and Icecast MP3 streaming, not to mention WMA and AAC streaming. There should also be the facility of encoding OGG Vorbis, WMA and AAC Streams to MP3, among others.
Online Radio Tuners
How do you get hold of an online radio tuner? How much you would have to pay for one? If you're starting out, there's some good news for you. You have access to free software called Screamer Radio for Windows. It has the main features of an online radio tuner as mentioned above. It has been tested to be free of spyware by cnet.com.
If you're looking for an online radio tuner with more advanced features and are willing to pay for it, then a program called Online Radio Tuner for Windows would interest you. At the time of writing, it's priced at USD 19.95 and could be purchased via Paypal. There is a 30-day free trial offered.
Additional features would include playlist support, showing what you're currently listening to on MSN Messenger or Windows Live Messenger and the creation of ID3 tags to your recorded audio, among others.
If you're an online radio buff, get started with installing Screamer Radio and see how it takes your online radio listening experience to a new level. You have nothing to lose by having this free program in your computer.
Article information based on writer's experience with Internet radio. Online radio tuner information based on writer's exploration of Screamer Radio and Online Radio Tuner.
Screamer Radio screenshot courtesy of program developer.