Streaming Tips: How to Use the Netflix iPhone App Through Your Home Theater's Television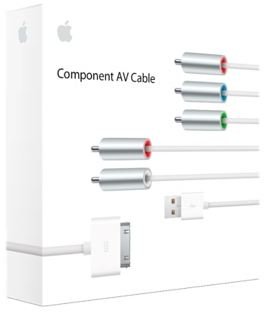 Using Netflix With a Mobile
Netflix has staged a revolution on the home theater world, providing the coming alternative framework to the physical media of DVDs and Blu-ray discs. It has gone even further when it leaped off the computer and moved to Internet-ready Blu-ray players, Wiis, and now even the iPhone and iPod Touch. With the Netflix iPhone app you are given the option to watch Netflix streaming right from your portable device, but Apple is determined to make the iPhone act as a portable media center that you can then tap into with your home television system. Here is a look at how to use this app as part of your home theater experience.
Plugging into Your TV
The newest incarnation of the Netflix iPhone app added a new item that allowed for a "video out" option, which means that independent monitoring devices are capable of tapping directly into the Netflix streaming playback. This update only allows for the video out feature to be used from the iPod Touch 4th generation and the iPhone 4, leaving older generations out of this entirely.
To do this, you have to employ the Apple Component AV Cable, or a third-party equivalent. This will allow you to plug into the AV plugs in your televisions, then allowing playback from the iPhone source on your television through an AV specific channel. On the one end, it uses the thirty pin connector to go directly to your iPhone and on the other it will use the AV plugs to go into those available, and this may actually mean something like a receiver rather than going directly into your television as that is the way your home theater is set up. This was originally prevented for actual iPhone apps to play over a television with a video out, but with new iOS updates they are now allowed to do this from both apps and from Safari.
Netflix Airplay
Airplay is a new feature that is coming along with the iOS 4 versions in an effort to let mobile Apple devices be able to broadcast media signals and have them picked up by a specified receiver, which would be something like Apple TV. There was originally a restriction of this coming through apps like Netflix for the iPhone, but with the iOS 4.3 update, the iPhone and iPod Touch are now able to use Airplay for third-party apps like Netflix. Apple TV, likewise, needs the iOS 4.3 update to receive the Netflix signal from the iPhone to then initiate the playback on your home theater system. This is still a great option to bring Netflix streaming options from location to location using your iPhone, but it is very restrictive since the user must have Apple TV and for some reason want to go through the mobile device rather than just their system on its own through the Internet.
This does not end up taking too many requirements on your home theater system, except requiring that it has an AV in slot on the back so it can receive the signal. The quality of playback then is determined on the television that is being used in the home theater system.
References
"iPhone video out on TV." https://www.iphone-tips-and-advice.com/iphone-video-out.html.
"Apple Component AV Cable." https://store.apple.com/us/product/MC917ZM/A?fnode=MTY1NDAzOQ&mco=MTM3NTMzMTM.
"Netflix app" https://news.cnet.com/8301-13506_3-20018573-17.html/
Author's own experience.