Top 5 Home Cinema Speakers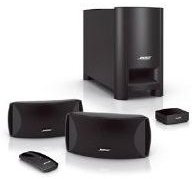 If you are not happy with the speaker system that came with your home audio equipment or you just want better sounds when you are using your home theater, there are a lot home cinema speakers out there that offer superior sound and versatility in design and looks. Here are five recommended speaker systems that satisfy the qualities you're looking for.
Bose CineMate Series II Digital Home Theater Speaker System
This speaker system is specifically designed to be used for TV sets. It has an easy to use remote control and an easy setup process, making it one of the most easy to use home theater speakers systems available. It features a 2.1-channel system of Articulated Array speakers that offer enhanced digital acoustic performance. You can get this product from Amazon for around $600.
Yamaha NS-SP1800BL 5.1-Channel Home Theater Speaker Package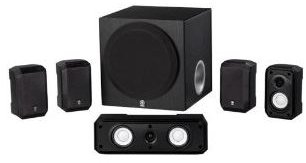 This speaker system features a two-way center speaker that has 2.5-inch woofers and a 0.5-inch tweeter, a set of two-way satellite speakers that have 2.5-inch woofers and a 0.5-inch tweeter. An 8-inch 100W high power cube type subwoofer is also included, and all of these speakers have magnetic shielding that protects them from unwanted effects of magnetic fields. It is designed to be placed on a flat surface or hanged on the wall. It is a versatile solution that offers superior sound at a low cost. Pick one up at Amazon for around $119.
Polk Audio RM6750 5.1-Channel Home Theater Speaker System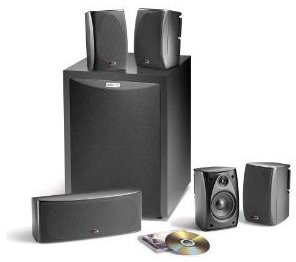 This six-piece set of two surround sound speakers; two front speakers, one center channel speaker and a subwoofer is made of 3.25-inch polymer composite cone drivers that offer a distortion-free midrange sound. This gives you a surround sound experience of great quality that does not require you to shell out a lot of money compared to other high end speaker systems. You can get one at Amazon for $188.
Definitive Technology Pro Cinema 60.6 Speaker System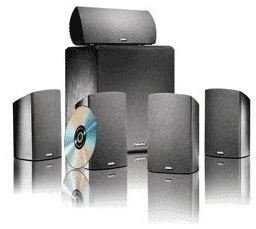 This compact speaker system lends itself to small areas without sacrificing sound quality. It provides high quality sounds with high impact bass, thanks to its 150W powered subwoofer. It is designed to be placed anywhere like table tops or walls. It is quite easy to place them in an optimal position for the right acoustics in a room thanks to its compact size. You can buy this system at Amazon for around $400.
Infinity TSS-800CHR High Performance 6-Piece Home Theater Speaker System
It's sleek design gives this sound system a unique look with an edge, but its attractiveness does not stop there. It features a magnetically shielded satellite and center speakers and a ten-inch 150W subwoofer. Stable and precise sounds are offered by this speaker system, not to mention a design that allows it to be mounted on the wall. Pick one up at Amazon for around $350.
The five home cinema speakers offer not just superior sound, but easy to use set ups and compact designs. A speaker system can just offer great sounds, but if you are going to use them in your home, these five products from Amazon offer the best qualities you should be looking for in a home theater speaker system.
Product Information and Image Credits
https://www.amazon.com/CineMate®-Digital-Theater-Speaker-System/dp/B002KY2OU8/
https://www.amazon.com/Yamaha-NS-SP1800BL-5-1-Channel-Theater-Speaker/dp/B001AVRD62/
https://www.amazon.com/Polk-Audio-Channel-Theater-Speaker/dp/B0002WTK4S/
https://www.amazon.com/Definitive-Technology-Cinema-60-6-System/dp/B001GOK9GE/
https://www.amazon.com/Infinity-TSS-800CHR-High-Performance-6-Piece-Charcoal/dp/B000K20JRC/