Buying Guide and Review: RF Universal Remotes

To review RF universal remotes, we should take a look at how easy they are to operate and what kind of features they offer to make our lives better without us even knowing it. Here are five universal remotes that have radio frequency (RF) capability, which means a direct line of sight is not needed when controlling a device with a remote control.
MX-350 Osiris IR/RF Remote Control
This universal remote control has expanded RF capabilities that includes routing-based independent control and an extended range that can go up to 100 degrees. In addition to this RF set of capabilities, it also features a memory that allows for 912 potential macros, each capable of having 190 steps. A smart memory backup feature lets it save programmed codes in its memory that can last up to a decade. These programmed codes support up to 20 different devices via four LCD screen pages and 33 buttons for each set of codes. You can buy it online from Amazon for around $116.
Logitech Harmony 890 Advanced Universal Remote Control

With it sleek and ergonomic design, this universal remote control from Logitech exudes power and sophistication, which it delivers by having features like infra-red (IR) and RF signal support, a step-by-step wizard that allows the user to set up the remote control and activity buttons that allow for easy switching between activities like watching television and listening to music. You can control up to 15 devices with this remote control, including lighting equipment and compatible household appliances. You can pick one up at Amazon for around $200.
URC MasterControl RF10 Universal Learning Remote with RF Capability

This remote control is very easy to use thanks to the available technologies here like MacroPower, which gives the user the ability to power on or power off multiple devices at the same time, SimpleSound, which is a universal volume control for multiple devices and RF capability, means the user can control the devices even without a direct line of sight. Additionally, it has a DVD programming guide that allows the user to set up their DVD player with this remote easily. Able to support up to eight devices, this remote control is a simple solution for a variety of control issues. Find this universal remote at Amazon for around $42.
URC RFS200 PowerPak Bundle with MasterControl RF20 and PowerBlaster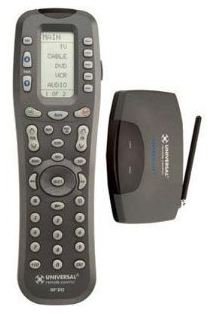 The MasterControl RF20 is a universal remote control that is capable of sending IR and RF signals. It has a customizable LCD screen, 432 macros and 40 built-in Favorites channels. This makes programming channels and learning different codes for different devices easy and quick. In this bundle, the MasterControl RF20 comes with PowerBlaster which is the the radio frequency power base and allows the MasterControl to operate its RF better. Pick one up at Amazon for around $77.
Digital R50 Universal Remote Control

This universal remote control makes it easy for users to control different devices even if they are very advanced entertainment systems. It is designed to be used by anyone from expert users to first time universal remote control users. It can support up to 18 devices and features a learning mode and SimpleSound technology, which lets users control the volume of multiple electronic devices. You can buy it for around $80 at Amazon.
To review RF universal remotes is to see their notable features and usability, and these 5 devices are definitely easy to use without having to sacrifice features that make using them efficient and comfortable.
Product Information and Image Credits
https://www.amazon.com/Universal-Remote-Control-MX-350-8056/dp/B0007PCB6O/
https://www.amazon.com/Logitech-Harmony-Advanced-Universal-Control/dp/B000CS1TLE/
https://www.amazon.com/MasterControl-RF10-Universal-Learning-Capability/dp/B000FL5OIW/
https://www.amazon.com/RFS200-PowerPak-Bundle-MasterControl-PowerBlaster/dp/B000FL9E6U/
https://www.amazon.com/Universal-Remote-Control-URC-R50-Digital/dp/B001KC08AE/