Top 5 RCA Universal Remotes: Buying Guide & Recommendations

RCA universal remotes provide a way for people to control different devices with a single remote control unit. RCA products are designed to for ease of use and comfort, which is why a lot of them are backlit and have ergonomic designs.
RCA 8 Device Remote
This sleek silver universal remote features an Auto Code Search, a Brand Code Search, a Manual Code Search, multitasking by controlling volume without exiting the current mode and backlit keys that is very useful when using the remote control in low light conditions. It can support up to 8 devices and over 350 brands of HD DVRs, DVRs, DVD players and HDTV units. Advanced playback functions give you a powerful yet comfortable navigation experience. You can buy it from Amazon.com for $11.54.
RCA 4-Device Remote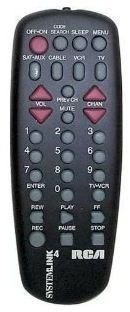 This remote control can control fewer devices than the previous item, but it is still rich with features like an extensive code library, easy to use channel and volume buttons, support for TV, VCR and cable box devices and a code saver feature that does not lose your codes even if you take out the batteries. You can purchase this online for $5.46.
RCA D 770 Universal Remote Control

This universal remote control can support up to 6 devices that span the most popular brands of electronics such as VCRs, DVD players and televisions. Its extensive code library provides this wide range of support. It has a hip design with a shape that makes itself easy to handle and comfortable to hold, allowing your to channel surf for hours on end. You can get it for $14.53.
RCA 3-Device Universal Remote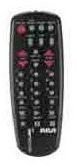 This compact remote control is perfect for people who do not have a lot of electronics they want to control. Its 3-device support is enough to control a TV, a VCR and a cable box with a single remote control. It has a recall button that remembers your previously watch channel. Its other features include an extensive code library that allows you to support a wide range of products from different manufacturers, and a code saver feature that preserves your codes even when the battery is taken out and a sleep timer. You can buy this universal remote control unit for $9.
RCA RCRN04GR 4-Device Universal Remote

This particular universal remote can support up to 4 devices at a time. The devices it supports include TVs, DVD players and VCRs from over 325 brands. It features an auto code search function, volume and transport key punch through, capability for advanced functions for cable boxes and a backlit keypad that lets you use the remote control in low light conditions. You can get it for $10.93.
Conclusion
Different RCA universal remotes give you a range of features and different numbers of devices they can support. These 5 remote controls units have different numbers of devices that they support. Some have advanced features like code saving while others are more basic, hence easier to use.
References and Image Credits
https://www.amazon.com/RCA-Device-Advanced-Functions-RCR812N/dp/B000AAN5O8/
https://www.amazon.com/RCA-4-Device-Remote-RCU-404/dp/B000060OEO/
https://www.amazon.com/RCA-770-universal-remote-control/dp/B00005T3TM/
https://www.amazon.com/Thomson-RCU403-3-Device-Universal-Remote/dp/B00006ICIW/
https://www.amazon.com/RCA-RCRN04GR-Device-Universal-Backlit/dp/B003EYV210/