Can You Really Watch TV Episodes Online for Free?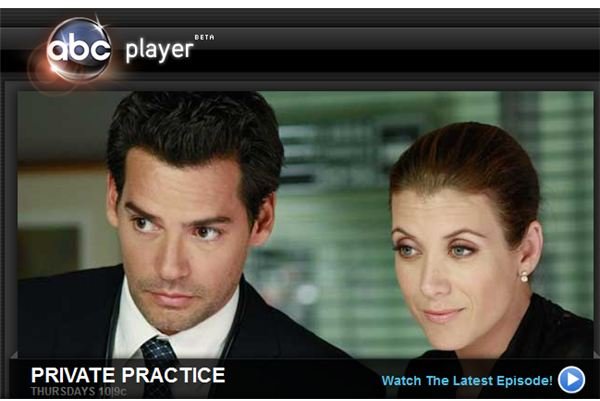 Let it be known that despite the claims by some software programs, it's virtually impossible to watch TV episodes online as you would do over a television set. So, don't rush out and buy the software programs that claim that you can watch thousands of TV channels from all around the world.
That doesn't mean you can't watch any TV episodes online. You can still view favorite shows in a limited way, as we'll explain below. This article will point you to some sources which will help you start streaming selected TV episodes to your home theater system.
ABC
When you land on ABC's main page, choose the Watch Episodes tab to check what TV shows you can watch online.
At the bottom half of the the screen you'll see what full featured episodes you can watch. These episodes are divided into three categories – most popular, most recent and staff picks.
At the time of writing there were 25 episodes you could watch from all three categories with shows ranging from Desperate Housewives, Castle and Modern Family among others.
Of course you can only watch the shows if you're in the United States.
Image courtesy of ABC.
NBC
At NBC's home page you will want to focus on the new full episodes in the middle half of the page.
Here, you can view the full range of episodes if you click on the video library. This will bring you to the page which lists shows available under full episodes. Once you're on this page, to make your search easier, you can sort the shows available according to the newest, most viewed, A to Z, and top rated.
Among the selected full episodes you get to watch here are from such shows as The A-Team, Charles In Charge and The Biggest Loser, just to mention a few. For classic TV shows buffs, let it be known that there are 87 episodes you can watch from the Alfred Hitchcock Hour.
CBS
At the CBS website, you can select the latest full episodes on the main page. Once you're on the full episodes page, you get to pick the shows you want from the left side bar of the website. Alternatively, you can sort the full episodes by the most popular and latest videos.
An attractive feature of CBS online is you get to preview shows that will be playing over the network before you watch them over your TV set.
CTV
If you're in Canada, you can visit the CTV website and head to the Latest Episodes Online section to see the shows you can stream from the Internet to your home theater system.
Currently, the shows you can watch for free here are Pretty Little Liars, Gossip Girl and The Vampire Diaries, to name a few.
Now you know how to watch TV episodes online in a limited way for free, if you visit the websites of popular TV networks. It's also clear that there's no need to buy special software to watch Internet TV and end up being shortchanged.
Researched by author.