3 Great Websites for Subwoofer Wiring Diagrams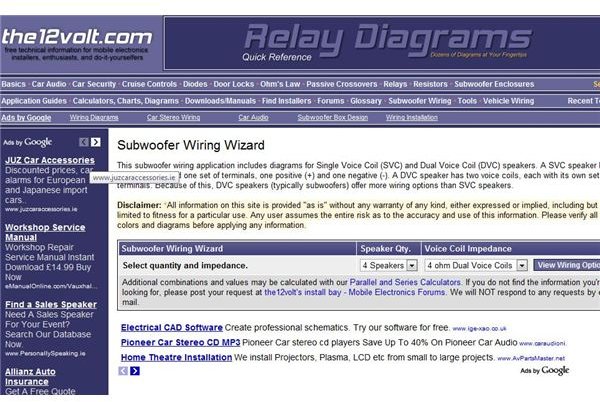 Setting It Up Properly
Nothing beats (excuse the pun) great sound quality when watching an awesome film. Explosions, music, thrilling monologues and firefights just sound so much better when they're coming from a great speaker system. Of course, you can have the greatest speaker and subwoofer system you like but if you don't set it up right, it will sound terrible. There are hundreds of different configurations for subwoofers which you can use. In this article I'm going to show you three awesome websites that have hundreds of subwoofer wiring diagrams.
Be sure to follow the appropriate one to a tee and always consult your user's manual to make sure it's all compatible! Check them out below.
The12Volt.com
This website is a nirvana for anyone who loves electronics and gadgets. It is also a complete gem for those of us who love home entertainment systems and like to set them up properly. They have thousands of different set-up manuals and instruction guides; with dozens dedicated to subwoofers.
In order to get a subwoofer wiring diagram you have to fill out a small form indicating such things like how many speaks you have, etc. Then, you'll be presented with five or six different possible wiring diagrams and an explanation as to why each one should be used and when.
All in all, this is an awesome site to find subwoofer wiring diagrams. Check it out here.
Club Knowledge
This website is more so focused on the nerdier sound technicians among us who like to get a little more scientific with how they set up their sound system. This guide really goes in-depth into the principles of subwoofer technology and the physics of sound (Ohms Law etc.) The first part of the site explains the theory behind the subwoofer diagrams and how and why they should be set up correctly.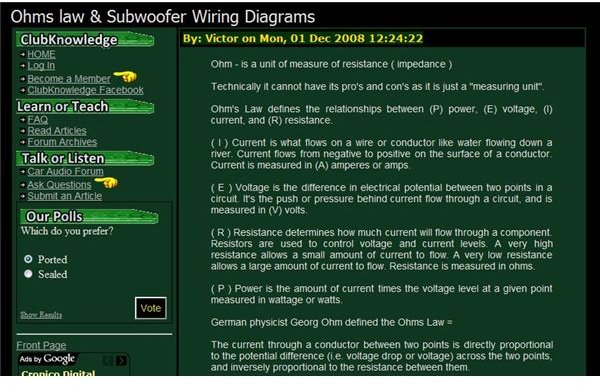 Above, we have the eagerly awaited subwoofer wiring diagrams. These are some great diagrams and are of good enough quality to print out should you so desire. They put all that theory used in the first part of the guide into use and show you some awesome subwoofer set-ups. They also focus a lot on in-car subwoofers. Check them out here.
CrutchField
This is by far the most comprehensive website in my list today. They offer high-quality 3D wiring diagrams for those who don't like to work off 2D schematics. They are plain and simple to understand and they have good quality 'keys' to show you what the different symbols mean.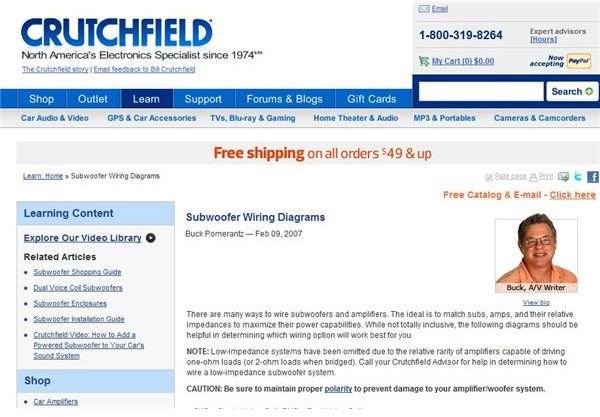 There are dozens of subwoofer wiring diagrams available for different channel amps, voltages and purposes. Most certainly an awesome site for all things sound-related. They also have a help forum should you run into trouble. Check it all out right here!
Screenshots by author