A Buying Guide to the 5 Best Portable DIgital TV Sets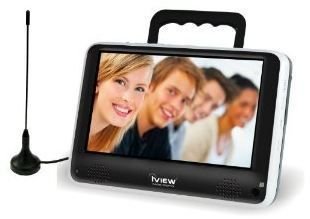 Introduction
If you are looking for a portable digital TV, the first thing you should consider is of course its size. The smaller it is, the more portable it can be. However, too small means less space for visual content. You need to find the best size that suits your taste without being too big. You should also check the reception of the TV. Its primary use is to receive TV content, so if it's not receiving decent quality signals, you should move on to other products. Finally, additional features are always nice and they always give you more bang for your buck. Some products can support playing video files as well as photos, so if you can find a device with a lot of features that fits your budget, go with one of those models. Here are some suggestions for the best portable digital TV products you can check out.
iView-700PTV Portable 7-Inch Digital LCD TV
This portable TV has a widescreen LCD screen and it is designed to handle both HD and non-HD content. It has a built-in tuner for both digital and analog channels, giving you access to all available free TV content that is accessible in your area. As a TV device, it already gives you value because of its tuner, but it also offers more. You can play video files from your computer by transferring them onto a memory card and accessing them through this portable TV's memory card reader or USB port. Aside from videos, you can also use this TV to view pictures and to listen FM radio stations.
Price: $85.00 at Amazon.
Haier HLT71 7-Inch Handheld LCD TV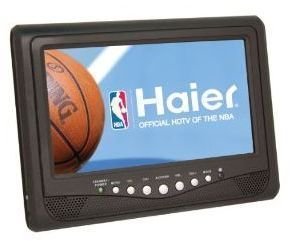 You can choose between 16:9 and 4:3 aspect ratios for this device, giving you access to any kind of content with these aspect ratios. Its tuner for NTSC content is also guaranteed to work even after HD content takes over channels. It also comes with a remote control, giving you the comfortable TV viewing experience you normally only experience at home.
Price: $49.98 at Amazon.
Axion AXN-8705 7-Inch Widescreen Portable LCD TV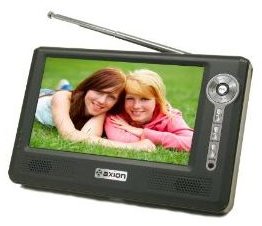 With this TV's built-in tuner, you can have access to all TV programming in a certain area. If you want to weed out channels that you don't like and keep only those that you watch often, you can do that by managing the channels to be received by the tuner. It comes with a remote control and a telescoping antenna which will give you better reception if you have a poor signal. The battery life of this device can give you up to two hours of continuous playback, which is enough for at least a couple episodes of your favorite TV shows.
Price: $79.99 at Amazon.
Philips PET729/37 7-Inch LCD Portable TV and DVD Player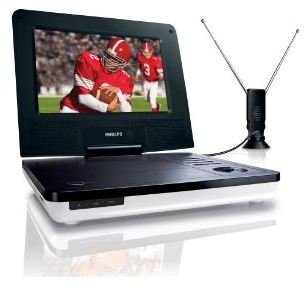 The built-in tuner for this portable TV gives you access to all free programming in your area. However, if there's nothing good on TV at the moment, you can just watch a DVD movie using the built-in DVD player. Its CD drive does not just play DVDs, it can also play VCDs, CDs and MP3 CDs. It's a total multimedia playback machine in a compact package.
Price: $130.66 at Amazon.
Eviant T7 7-Inch Handheld LCD TV
Not only is this television one of the best portable digital TV products, it is also one of the first of its kind. It has the distinction of being one of the first handheld TV sets that supports digital content without additional accessories or modifications. It comes with minimalistic remote control with only 6 buttons which makes navigation easier and more comfortable.
Price: $96.99 at Amazon.
All screenshots courtesy of Amazon.