Read Our Handheld GPS Reviews: A Compilation of the Best and Most Popular Makes and Models
Maybe it's a good idea to understand all the things that account for a superior portable, handheld GPS unit designed for outdoor use. Familiarize yourself with what our experts and enthusiasts have compiled as common characteristics of the best handheld GPS reviews before you move onto specific reviews of popular models. For instance, durability, weight, and the kind of battery options and battery life are all considered carefully to see that a unit of this caliber measures up to the other best offerings on the market. If you're an outdoor adventurer who prefers their gadgets to be all-in-one to cut down on weight and bulk, take into account that some of these portable GPS devices also have cameras, barometers, sound recorders, and flashlights. Since these are rather advanced technological devices that know how to communicate with their electronic counterparts in outer space, you'll want to understand the terms and specification described in that article. Also, make sense of some important technical jargon such as what WAAS enabled means in relation to how a accurate a portable GPS device is before you proceed to check out.
Portable Handheld GPS Comparisons and the Geocacher's Best Choice (5 out of 5)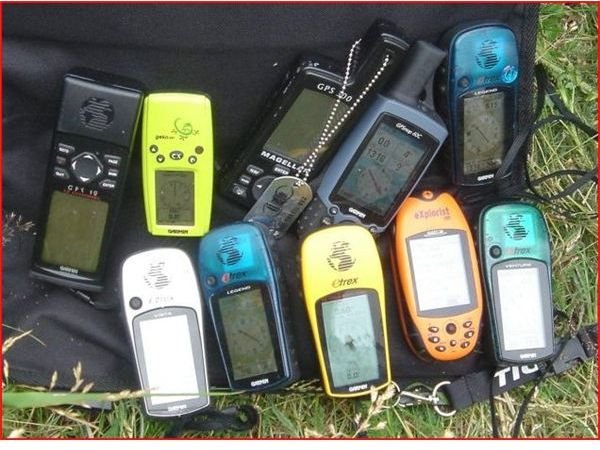 Stacking portable GPS devices together side-by-side is a good way to quickly glean which unit shines brightest for the activities you like to do. But since it's such a popular and fast-growing hobby that entire families can enjoy together, perhaps right off the bat you'd like to go straight to the reviews of the best geocaching GPS units. That article is part of a series which explains what makes for the top rated handheld GPS stand out, and also provides mid-range and low budget options as well.
When considering which handheld GPS to buy, there are many questions to ask yourself. For instance, do you want a touch screen, an electric compass, an altimeter, or 3D map-viewing capabilities built in to the unit? What are your budget constraints? Would you like your unit to announce to you when it's time to make a turn on a trail by chirping? How easy is it to upload new maps, expand memory, and how many waypoints do you need to plan and record your routes. We considered all these factors and put together handheld GPS comparisons of 5 of the most popular models that score high with outdoor enthusiasts. Among the units compared in that article with concise pro and con bullets are the Garmin GPSMAP 60CSx, Garmin Colorado 400T,Garmin eTrex Vista HCX, DeLorme Earthmate PN-40, and the Garmin Oregon 400t Handheld GPS. We will link you to handheld GPS reviews of each of those models below too.
Image courtesy of Wikimedia Commons
Garmin GPSMAP 60CSx Portable GPS: Highly Recommended (5 out of 5)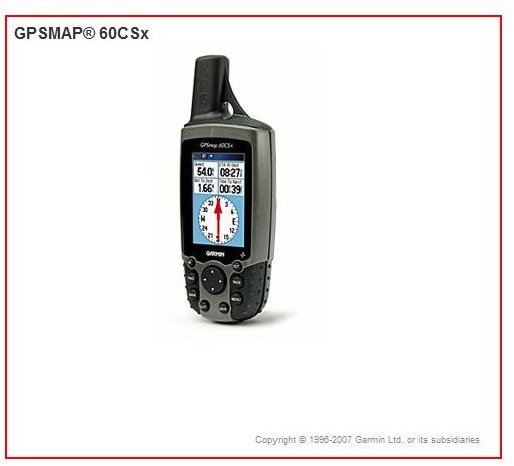 This unit made it onto the all-important list of user-friendly handheld GPS units, which is what novices to the world of portable GPS technology really want to hear. The Garmin GPSMAP 60CSx has made it onto so many of the lists compiled by our experts and enthusiasts as a "best handheld GPS" for a multitude of categories - from fishing to geocaching. Plus, for the budget conscious, it's also been recognized as one of the top five budget handheld GPS devices, because it's loaded with great features (like a compass, altimeter, and tons of memory with the 64 MB microSD card that you can put even more maps on) while remaining at a competitive price.
Although Garmin has come out with more advanced and feature-laden models than the GPSMAP 60CSx (such as some of the models in the Colorado, Oregon, and eTrex series), the 60CSx is still an extremely popular device that seems to generate a certain amount of dogged loyalty from customers. It's extremely accurate due to a high sensitivity Sirf set. It's a veritable workhorse among portables offering versatility that is well-suited for geocaching, hiking, rafting, and just about anything else you can do outside. Its weatherproof design, long battery life, and high-sensitivity GPS receiver are a few of the traits pointed out in this review touting the Garmin GPSMAP 60CSx as a stellar handheld GPS recommendation for use in whatever fields you like to play in out there in the great outdoors.
Top Notch Hiking and Backpacking GPS Handhelds: Low Budget Options Too (5 out of 5)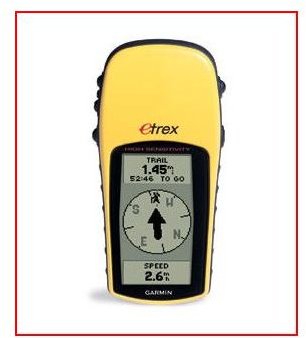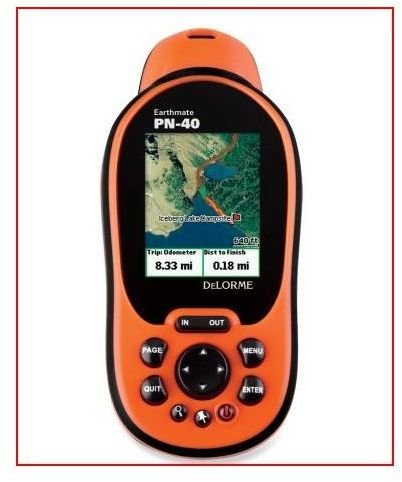 GPS units are extremely popular with backpackers so we put together a roundup of the top-rated and best backpacking GPS devices available so you can choose the one you want with you the next time you're at the trailhead. Factors that backpackers find extremely important are that the device be extremely lightweight, weatherproof in the most extreme conditions, compact, with a long battery life and be able to display topo maps. Among the handheld GPS units reviewed there are offerings from Garmin and Magellan.
And for the hikers, be sure and read these handheld GPS reviews of the best hiking GPS units because you'll be introduced first to the no-frill but easy to use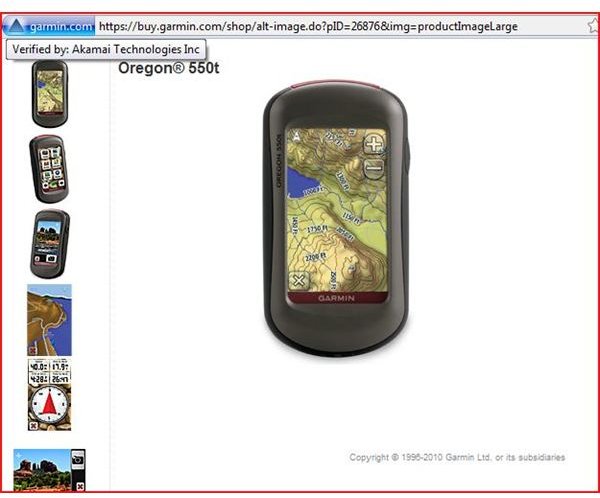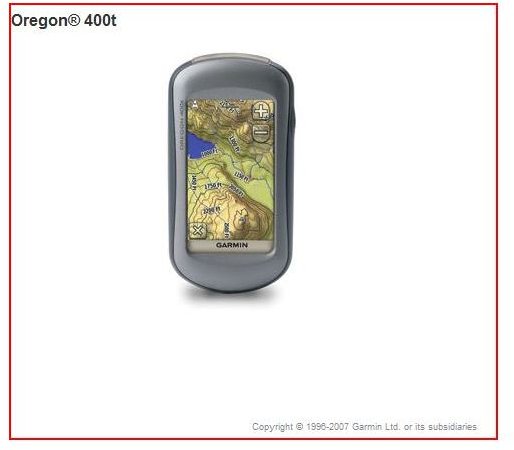 Garmin eTrex that is accurate and dependable but don't expect the fancy maps with this one (however, higher-end models in the eTrex series are jam-packed with the latest features). Next, you'll be apprised of the DeLorme Earthmate PN-40, which offers awesome aerial imagery and plenty of memory for topo maps and more waypoints than you'll ever use. Also recognized in this category is the Magellan Triton 2000 which features a handy digital recorder; one reason why we named that particular unit as an excellent choice for fishermen looking to remember what worked in a certain fishing hole. Finally, the bell of the outdoor GPS ball is the Garmin Garmin Oregon 400T. To find out more about why the Oregon Series is so highly touted (and pricey) read this handheld GPS review of the Oregon 550T that proclaims it as the best for hiking and geocaching.
Magellan eXplorist and Triton Series (5 out of 5)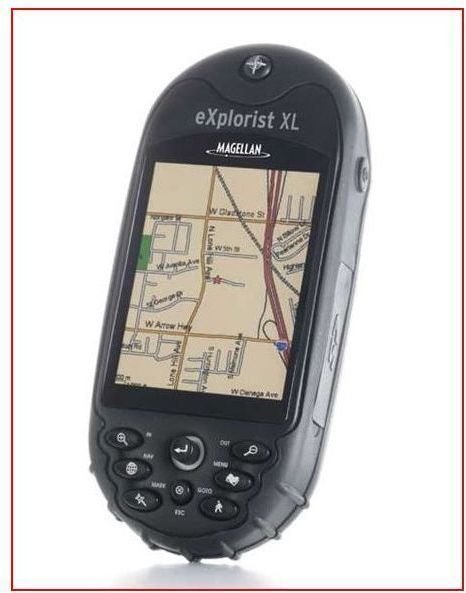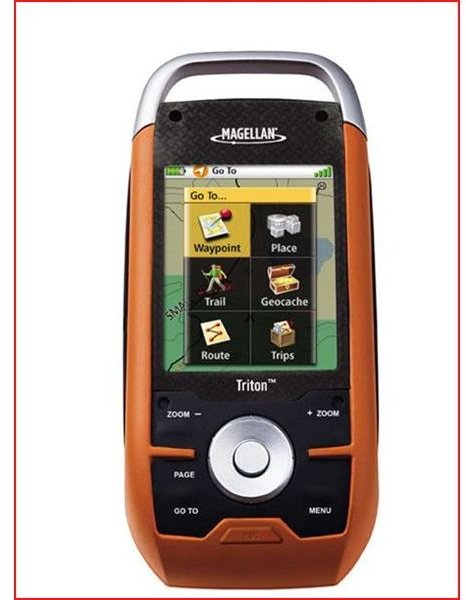 Magellan make some quality handhelds that will certainly work well for whatever passion or hobby it is that draws you to the great outdoors. Although Magellan doesn't have anywhere near the number of series and models as Garmin does, the few models they do have get decent reviews. As a matter of fact, the Magellan eXplorist was found to have a very intuitive user interface which put it on the list of the most user friendly handheld GPS units of all time, although it's certainly not one of your more compact models.
The Triton Series, including the 200, 1500, and 500 are all rugged, durable, and waterproof enough for all outdoor activities. The more features you want the more you'll pay, but the National Geographic Topo maps available with the Triton 1500 are especially nice. Find out the rest in this Magellan outdoor handheld GPS review featuring the Triton series.
Eagle Expedition II (3 out of 5)
If you've been looking for a cheap alternative and come across older discontinued models, sometimes they can be a bargain if it was a good unit while it was manufactured. However, sometimes you get what you pay for which equates to a lackluster unit that causes frustration. With that in mind, read this helpful review of the Eagle Expedition II handheld GPS before you decide to buy one of these mass produced on the cheap units that you found somewhere. You'll want to know about the shoddy design of the battery terminals which often make it inoperable and therefore it isn't really worth any price.
Best GPS Options for Hunting and Fishing (5 out of 5)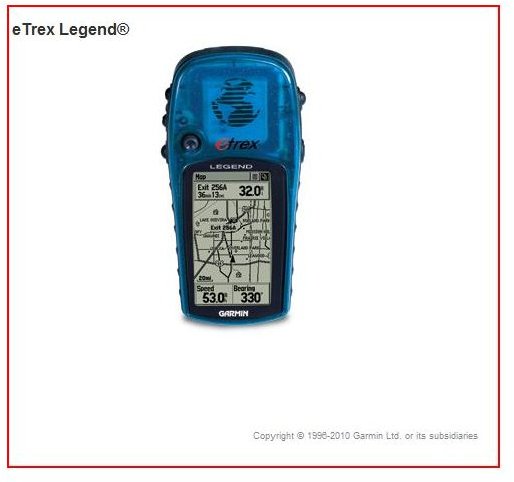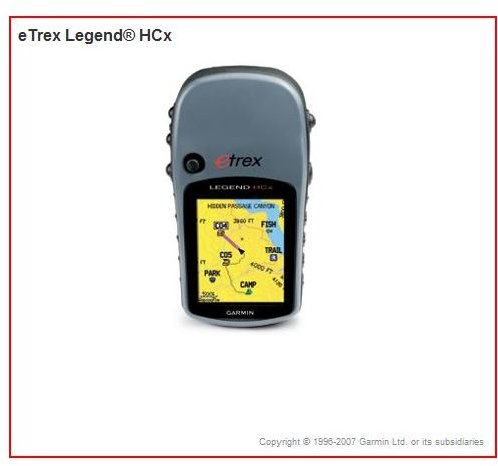 The Garmin eTrex Vista HCX is a bang-up unit mentioned for many reasons in the best handheld GPS reviews for specific purposes, but it's especially good for hunting (as is the eTrex Legend as well). It's small enough to fit in a pocket, the bright screen offers a fantastic display that will give you all the rich detail of topos, and tons of expandable memory. So it tops the list in this hunting GPS review roundup which also highlights the Garmin Rino 530 HCX since it has a built in two-way radio which is a great way for a hunting party to spread out but still know exactly where everybody is at. Another honorable mention there is the Lowrance iFINDER Hunt C Handheld GPS Receiver.
For fishing enthusiasts, we've got options too. But please keep in mind that although we're talking about handheld GPS devices here, we've got reviews, tips, and recommendations for a host of fishfinders and chart plotters too. At any rate, reading the best GPS devices for fishing will clue you in to what's available in GPS technology with anglers in mind.
When Self-Rescue is No Longer Possible, a Personal Locator Beacon with GPS Saves Lives (5 out of 5)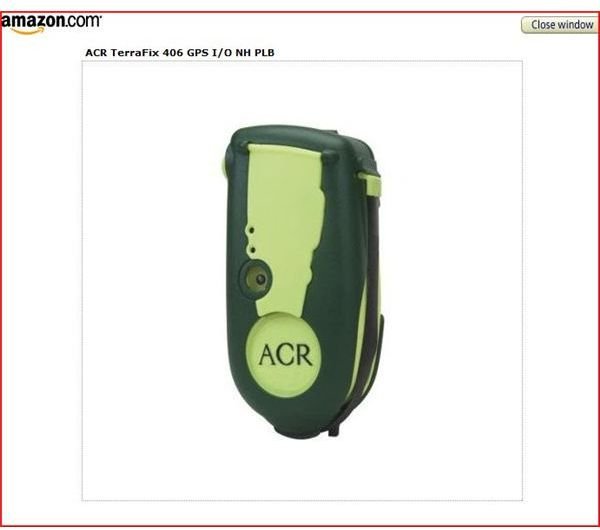 No roundup on handheld GPS reviews would be complete without mentioning personal locator beacons (PLBs). For the brave souls that venture far into the wilderness, out into the sea or out into some of those vast Great Lakes where the shores can be just as distant, you might want to think about having more than just a handheld GPS. When a 406 MHz personal locator beacon with GPS is switched on, a world-wide monitoring organization is alerted and they in turn notify local rescue authorities who know exactly where the activated PLB is. As an added safety measure, a homing device also emits a signal for search and rescue authorities to key in on. A PLB could mean the difference between life and death if you're in a remote area and some accident or injury prohibits you from self-rescue. That article is linked to a helpful series explaining further about how they work and who should carry one. But you'll also be given PLB reviews of the best and most popular including a thorough ACR TerraFix review that gives you all the specifications which make it rugged, durable, and most-importantly account for a proven track record.
These devices don't offer navigational capabilities and they're only to be used as a last resort because getting all those emergency search and rescue personnel and their vehicles/aircraft is extremely expensive. On boats and vessels, the term more commonly known is EPIRB, but the same idea is the premise of the device. Only as a last resort, when catastrophic loss of life is imminent should a PLB be activated, or when a boat capsizes and it's automatically activated. If your adventures are more aquatic in nature, be sure and read the personal locator beacon reviews of the ACR ResQFix while you're there too.
Finding you the Right Handheld GPS Device: This is Just a Gateway
So now you know a great deal more about handheld GPS devices and the myriad of uses they have in enhancing your outdoor adventures. Keep in mind that while we highlighted the best and most popular models here, there are still plenty of other handheld GPS reviews on our site. Just use our search engine to find anything you might be interested in. Since we're evolving here at Bright Hub as fast as technology is, this Definitive Guide to Handheld GPS Units is where to begin to find the latest reviews and articles plus advice and tips on anything and everything related to these navigational aids that can go anywhere in the world you can.