The Garmin Forerunner 305 GPS Receiver with Heart Rate Monitor is a Great Training Device
Introduction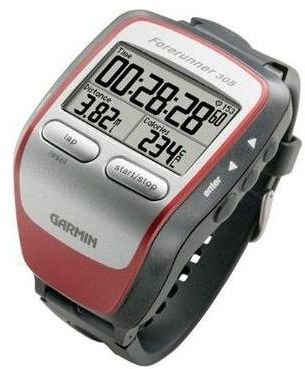 With the Forerunner 305, Garmin has introduced a powerful, affordable, and effective wrist-mounted GPS device. The 305 is a very accurate and reliable wrist-mounted watch and GPS tracking tool. The emphasis is on performance monitoring, as we shall see in this Garmin 305 Forerunner GPS receiver with heart rate monitor review.
Personal Trainer (5 out of 5)
On the training front it provides athletes with one compact unit worn naturally as a wrist watch to provide precise speed and distance data. It also measures heart rate and calories burnt during the exercise. The unit is bundled with the Training Center Software that can download the training data from the watch for further analysis. Thus, the unit can be used by athletes who take part in cycling, cross country skiing, long distance running, etc. The data acquired during training period can also be analyzed in software like Motionbased. This would let you do online mapping and route sharing.
To be able to train against competition, you can even train against a virtual partner. For a look at the family members of the Forerunner devices read Garmin GPS Watches for Runners - Personal Training GPS.
A GPS Assistant (5 out of 5)
The GPS functionality of the device helps collect data about the route taken over long distances. In this endeavor, the device is by no means a simple contraption. It is powered by the SirfStar III GPS chip set that powers most capable GPS receivers. The curved surface of the watch-like device acts as a good antenna, and the high-resolution gray, back-lit display make the read out easy to see, even outdoors.The distance traveled during training are measured and maintained by the GPS device. Even when you train in completely unknown territories, the distances and route taken will be captured. The GPS data can be used for online mapping and route sharing with other athletes later.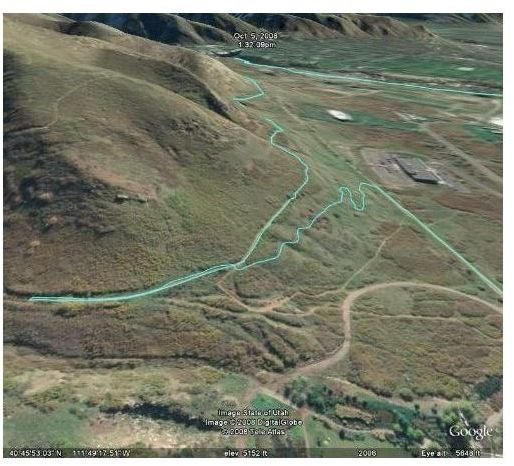 It is the training aids that make the device excellent. A heart rate monitor belt worn during training sessions communicate with the Garmin 305 GPS receiver wirelessly over a distance of up to about 10 feet. The athlete is completely free to move, except for this little extra sized sports watch like device on his wrist. Bicyclists and other athletes can also add on a motion and cadence sensor. This would help monitor if the rhythm of movement required is achieved during training. The data acquired includes heart rate, speed, distance, pace and calories burnt. Alerts available about time, distance, pace, and heart rate help ensure you train appropriately and without over-exertion.
Data can be stored within the device for up to 1000 laps. Auto lap, auto scroll and auto pause help monitor what you are doing on-the go. The bundled software provides the capability to download the stored data through a USB connection to analyze the session. The graphics/charting capability of the program allows you to derive all kinds of charts that help focus you on what exactly needs to be done.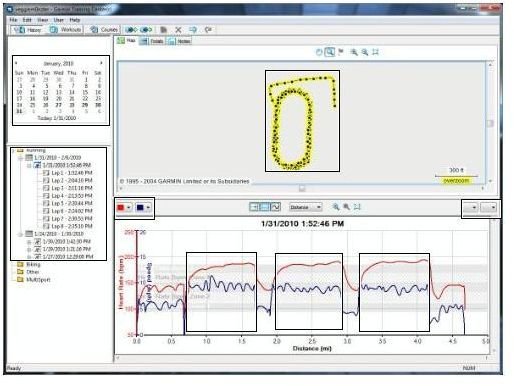 The battery supplied lets you go up to 10 hours per charge. This water resistant GPS is certified as per IPX7 standards, so working outdoors is not going to cause a problem.
Overall + Value for Money (5 out of 5)
Overall then, it is a terrific device that lets you train very accurately, with a sparring partner too, if required. The analysis facility should be able to let you or your coaches calibrate your training program very well too. The Garmin Forerunner 305 GPS receiver (with heart rate monitor) is currently available from Amazon for $141.54. At that price, this package offers you a great value for money, because it is undoubtedly one of the best personal GPS tracking devices!