Geocaching Swiss Army Knife - Benefits of GSAK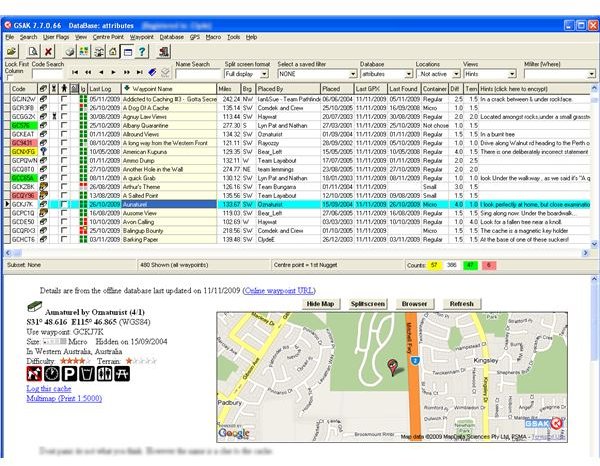 Geocaching Swiss Army Knife, also called GSAK for short, is a geocaching utility that helps you import and export database queries for geocaches. For example, you can run a query for geocaches in an area and import the results from a website to your computer. You can get the data in both .LOC and .GPX formats. Normally, with the .LOC file, you will only get the coordinates required to find a geocache. With GPX format, your GSAK can import all the additional information, such as hints, making it easier for you to determine your next trail.
If you thought the software was only for importing and exporting geocache data, you got it wrong. It is capable of making the game easy for you by offering you waypoints, helping you add notes, upload notes to the geocaching portals you are using, and more.
The software comes as a free trialware, valid for 21 days. On the 22nd day, you have to buy it if you wish to use it. If you don't, the software starts presenting nag screens that increase in frequency with each subsequent use. The price is nominal at $20. The trialware has some features locked but once you purchase it, you can utilize the full capacity of the software. The default geocaching website (URL) that comes with GSAK is geocaching.com. You can easily change it to any other geocaching website in the full version.
Why Should You Use It? (4 out of 5)
You can run pocket geocache queries and download information in GPX format. The GPX format offers you all the details you need to find a geocache.

You can even create subsets of the downloaded (imported geocaches) by filtering out the unwanted geocaches, you can quickly review the cache list on the big screen (see image above). The best part is that you can assign nicknames to the geocaches so that you recall them easily. You can convert the query results to a HTML format and download it to your PDA for carrying it as you are on the treasure hunt.

The best feature of this software, admired by most users, is its file sharing capability. GSAK offers a number of file export facilities. If you and your friends share common geocaching interests, you may wish to share the file with them. However, if they use a different GPS unit for geocaching, the file will not be of much use to them. This is why you can get a number of file formats when you export the data using this software. In other words, you download the data and filter it. It translates the results to a format that can be used by your friends. And if you do not find a proper format for your friend, you can always export in the universal GPX format.

The software allows direct upload of waypoints to your GPS receiver. You can also make corrections to the waypoints before uploading, if required.

Among other benefits of the software are drag and drop support, ease of navigations, quick sorting, and easy backup of the database you create using the pocket queries.
The above lists only those major advantages of the geocaching software that I found useful for me. For more advantages and benefits of GSAK, try it for 21 days and see if you can make it more personal.
Drawback of the Software
The only disadvantage of this software is that it runs only on Windows operated machines. As of now, there are no indications from the manufacturers that they will be creating versions for other operating systems.
References
Image from GSAK by author
Guide to using the GSAK, GSAK Website