Magellan RoadMate 1700 Portable GPS Review: Taking a Closer Look at the Magellan RoadMate 1700 GPS
Introduction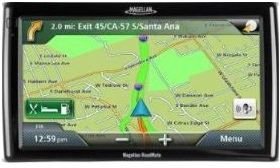 The Magellan RoadMate 1700 GPS has been rated very well in reviews across a large section of technical magazines. Most reviewers have given it a rating of 4 or more. That is true of user reviews of the Magellan RoadMate 1700 portable GPS well. With that kind of rating this is a device worth buying anytime if it meets your specific situation. It has the features most good GPS navigators will have as we discuss below. Read on to find out if RoadMate 1700 does meet your requirements. Read "Choosing a Large Screen GPS Unit" for additional information.
Interface & Ease of Use (5 out of 5)
One of the biggest strengths of the Magellan RoadMate 1700 device is the display real estate. At 7 inches diagonal there is a lot of map area that show the roads and map symbols all very clearly. Even if the vehicle you are driving is large and the device is away from you readability is good. The interface is a touch screen allowing user interaction with the GPS. So the controversy you see on smaller devices about someone with big fingers or small fingers having difficulty interacting does not apply to this device at all. This feature is highlighted in most Magellan RoadMate 1700 portable GPS reviews. The interface is responsive too, the device reacts to inputs very quickly. The text-to-speech voice guidance for turn by turn navigation works well with either 2D or 3D map viewing modes. You will also find this to be mentioned in most Magellan RoadMate 1700 portable GPS reviews.
Maps & Other Useful Features (4 out of 5)
The device comes with maps of the United State, all 50 of the states, and Canada and Puerto Rico are also included. Maps for Mexico are available to but will need an additional activation fee. The maps have some 6 million POIs to make them very useful during road trips. The complete AAA Tour book is included too. The Magellan RoadMate 1700 is capable of helping you out with multi-destination routing. A well responsive touch screen lets you set up routing and other functionality quite easily. Once a destination is chosen you will get a destination confirmation screen. Here you can confirm the destination or choose alternate routes. The alternates are based on fastest time, shortest distance, mostly freeways, and least use of freeways. You can have 2D as well as 3D view of the maps and a text-to-speech system that guides you through voice directions turn by turn. The announcements are available in multiple languages.
The Magellan RoadMate 1700 has a microSD card slot for additional memory, a mini USB port for charging through your computer and downloading/uploading. A 3.5mm AV input, and a connection for the 12-volt charger are the other connections available on this GPS device. On the back are a speaker and the slotted connection for the windshield suction-cup mount.
The Cons of the Magellan RoadMate 1700
The Magellan RoadMate 1700 does not have a real-time traffic data receiver. Thus it'll be hard to make out if you are going to face congestion up ahead. In urban environments, in the so called urban canyon situations, the device may take significant time to get a satellite lock. While normal lock time is around 30 seconds with most GPS units, the lock time can go up to couple of minutes when you are deep below a wall of skyscrapers in the downtown area.
The large size that works to its advantage could also turn out to be a difficulty if your dashboard space is limited. Battery life is quite short but if your charger is plugged in that should not be an issue. These are the not so positives pointed out in Magellan RoadMate 1700 GPS reviews across trade press too.
Overall Rating (4 out of 5)
The ease of use, large number of POIs, enough maps preloaded and additional memory through the SD card plug-in makes this device a very good fit for your vehicle. Even after taking the cons into account I would not hesitate to rate it at level 4 easily. If you have the dash space, this is a good choice for your vehicle and is available from Amazon at about $197.99 (as on 28 May 2010), sometimes with free shipping. Magellan RoadMate 1700 portable GPS reviews across dependable sources find the device similarly useful.
Conclusion
If you have the dash space, this is a good choice for your vehicle. Many of the Magellan RoadMate 1700 reviews call this device an ideal choice for large vehicles such as an RV or a truck. I personally think the large display real estate should be useful to most people.