Axion Geo-632 GPS Review & Buying Guide - Is This GPS Unit Worth Buying?
Overview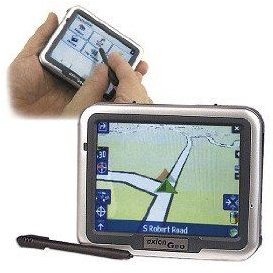 Axion has been in the market of consumer electronics such as LCDs and DVD players, but the Geo-32 is Axion' first attempt in the field of GPS. The Geo-632 has a solid pedigree featuring rock solid 3.5-inches wide touch sensitive screen, and a SiRFstar-III GPS receiver.
You get a 2GB SD card with POI data as well as pre-loaded maps along with the GPS unit, and this next generation GPS device runs on WinCE.Net 5.0 platform.
Sure thing, there are a number of positive aspects of the Axion Geo32, but you can find many top class GPS units at comparable (and even lower) prices too. Let us review the Axion Geo-32 in detail.
User Interface (3 out of 5)
The Axion Geo-632 is far from a well finished GPS unit, and its user-interface isn't too friendly. As a matter of fact, due to the lack of keyboard, you may even get disgusted dealing with its small icons.
Sure thing, the Axion Geo-632 comes with a fairly large big screen, but you'll start noticing the fingerprints on its reflective screen soon enough. The Geo-632 has a unique feature called the dynamic cursor, which indicates whether the user is moving on the road or traveling in a vehicle.
Furthermore, you can also determine parameters like relative speed, and relative position of sun.
Ease of Navigation (3 out of 5)
Its screen shows the estimated time remaining and distance from the destination too. But, when you consider the ease of navigation, you'll be definitely disappointed with the paltry information provided on its navigation screen.
Unlike the other popular GPS units, Axion Geo32 doesn't show your current street. In fact, the next street isn't shown at all, and you can't even fine tune the device to continuously give out the details of current road. You'll have to navigate to GPS status page for checking out your current speed, which can be again quite irritating. What's more, entering an address isn't an easy job either, and you may even have to refer to the user manual for obtaining detailed instructions.
Salient Features, Pros & Cons
The Axion Geo-632 GPS Navigator has a high-capacity battery, and comes with a 1.5GB memory card. It generates consistent routes just like the other Navteq-based devices. The Geo-632 supports auto-zoom, and you can toggle between 2D and 3D day and night views as well.
Another good thing about the Geo-632 GPS navigator is the fact that the device can also serve the purpose of JPEG viewer & MP3 player. It also comes pre-bundled with AC adapter and in-car mounting system as well. Decent performance and the above-mentioned features are counted amongst its major pros. But, when you start considering its downsides, there are lot many disappointments as well.
The lack of keyboard, small icons requiring use of stylus, and the limited vocabulary turn out to be its major downsides. Far worse, maps keep freezing all the time and its touch-screen goes dead pretty often. What's more, Geo-632 lacks text-to-speech option and comes with a very poor spoken vocabulary, and insufficient direction details.
Overall Performance (2 out of 5)
The Axion Geo-32 lacks several aspects that are seen on many of its competitor. Its performance isn't that bad, but at a fairly high price of $300+, you can easily find many Garmin GPS navigation units, Averatec Voya 320, and the likes of Magellan as well as TomTom.
So, you may consider buying other competitive GPS devices, if you're willing to shell out over $300.
You can find more Garmin GPS reviews & information on other competitive GPS devices that may be worth your buck!