Review of GeoSetter: Free Geotagging Software for Windows
Overview of GeoSetter
The process of tagging digital photos with geographic information is becoming more and more popular, and there are a number of free geotagging software applications that promise to help with this task. GeoSetter is one of these tools, and it has several features that make it worth checking out.
In addition to being able to sync with track files, GeoSetter can also be used in conjunction with Google Maps to manually geotag photos. So, you can use the application to add location data to your photos even if you don't have a GPS device.
Ease of Use (5 out of 5)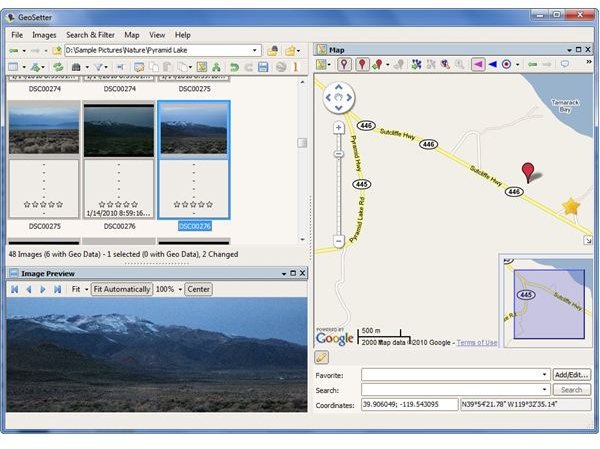 Despite having some more advanced capabilities, the basic functions of GeoSetter are easy to learn and use – even if you're a geotagging beginner.
For instance, if you want to retrieve GPS coordinates with the software, just select the photo and then locate where it was taken in the map view. Since the software is using Google Maps, you will need to be connected to the Internet to use this feature.
Once you mark the photo location on the map, a single click will let you apply those coordinates to the photo. With a couple of extra steps, you can also retrieve other information from the Internet for those coordinates – such as altitude, country code, and other location details. You can even save locations as favorites, making it easy to apply the same data to multiple photos.
Performance and Features (5 out of 5)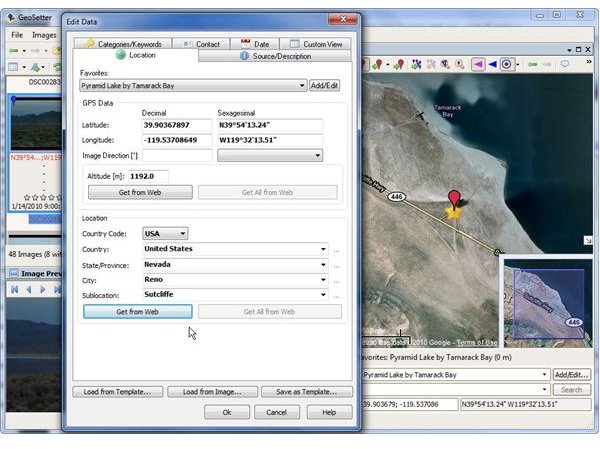 GeoSetter is a compact utility that is fairly light on system resources. Even though the application was designed to be used as a means to view and change metadata for image files, it actually serves as a fairly decent photo viewer as well. You can easily customize the layout of the software's interface by selecting which panels will be shown. These layouts can be saved – so if you find that you like to use a different layout for different purposes, you can save each one and switch back and forth between them with just a click or press of a hot key combination.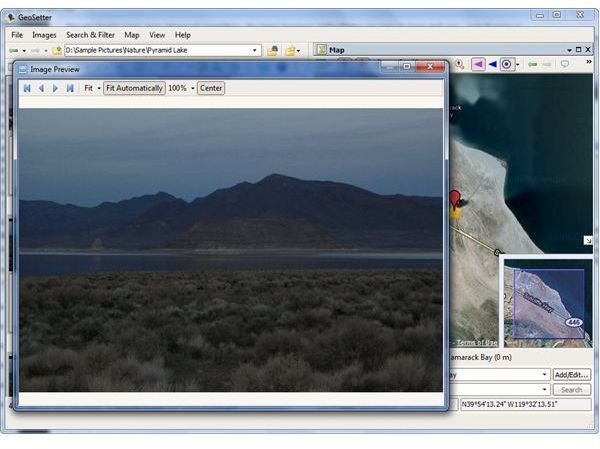 Another nice feature of GeoSetter is that each panel can be undocked from the main interface. This is particularly useful if you're using the application as a photo viewer or if you want a larger view of a certain window (like the Map panel) without minimizing the other areas of the interface.
In addition to standard JPEG and TIFF files, GeoSetter is also compatible with a number of RAW image formats. The software also supports several languages, including English, German, French, Spanish, Russian, Chinese, Japanese, and more.
Price to Value (5 out of 5)
Although you do have the option of making a donation to GeoSetter's developer, this is in no way required to obtain complete use of the program. In fact, there aren't even any "nag" screens or advertisements built into the software. GeoSetter is completely free for all types of usage. If you would like to make a donation as a sign of appreciation, you can do so at GeoSetter's website.
Overall Rating (5 out of 5)
GeoSetter is definitely worth trying out for yourself, especially if you're just starting to learn more about geotagging and editing digital photo metadata. Despite being free, GeoSetter rivals (and even beats out) many of its paid counterparts. The intuitive user interface make the software's basic functions easy to learn and use, and the more advanced capabilities are explained quite well in the program's built-in help system.