Review of the Magellan Maestro 4250 - Car GPS Review & Buyer's Guide
Special Features (5 out of 5)
As a portable navigation device for your car, the Magellan Maestro 4250 clocks in at around $500 retail and comes with pretty standard features. You can either get directions via text on the screen or by voiced directions. Almost all of PNDs for your car have a points-of-interest database so that you can find the nearest gas station, attraction or even a good restaurant. But, there are a couple of features that do set the Maestro 4250 apart. These include voice commands and the ability to hook up with AAA's Tourbook listings.
First of all, the voice commands feature is really nice since you don't have to take your eyes off of the road to input a new location. Basically, the features work by allowing you to speak aloud where you would like to go. You can do this for city and states, but you cannot do this for street addresses. You will still have to manually enter these.
The feature works well, but you need to create a quiet environment to use it. It will not distinguish your voice if there's outside noise, including the radio or an open window. But, the feature does work despite these drawbacks.
For AAA members, there is an added bonus. The Maestro 4250 can access AAA's Tourbooks, which means that you can search the site for AAA lodging and restaurants. And, you can see which places of interest offer AAA discounts.
For those without AAA memberships, the points-of-interest database has been expanded from older models. It now has around 6 million entries for things such as gas stations, lodging, restaurants and other amenities. You can even search restaurants by the type of cuisine that you would like. One problem with the points-of-interest database is that the listings aren't always up to date. Some of the places could be out of business.
Design and Usability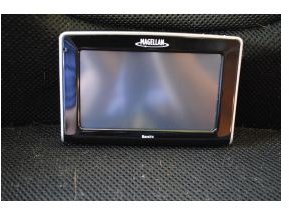 The design of the Maestro 4250 is quite nice. It's smaller than past models (3.2 X 4.8 X 0.7 inches), but the screen is still the same size with 64,000 colors and a screen with 480 X 272 resolution. Maps and word directions popped on the screen so you don't have to worry about straining your eyes to read it. It comes with the SiRFStarIII GPS chip. It can calculate trips based on your preference (avoiding toll roads, fastest route, etc.) and can recalculate routes.
It's fairly lightweight at 6.8 ounces and comes with a nice carrying case so you don't scratch the screen. It has inputs for a FM antenna and mini USB port. It also has an area for a SD card expansion slot. The back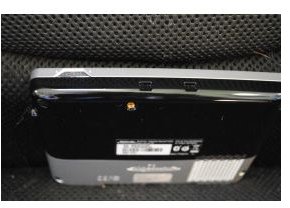 sports the speakers and external antenna jack.
This device has a touch-screen, which works most of the time. Sometimes you have to touch it more than once to get it to work. Sometimes there is a lag between touching the screen, and it responding. And, there have been instances where this frequent touching has led to the machine freezing. So, it's something to be aware of.
Additional Features and Map Accuracy
The Maestro is also Bluetooth enabled, meaning that you can synchronize your phone to it and use it as a hands-free speaker. This is another great safety feature.
The maps given were quite accurate in tests. So, you can be assured that you are going in the right direction. With the purchase of this machine, you will get a free trial of the pre-loaded Navteq maps for the entire U.S., Canada and Puerto Rico.
Overall, the Magellan Maestro 4250 has a lot of advanced features that seem to work pretty well despite some minor drawbacks. It is well worth the $500 price tag, and you can actually find some remanufactured machines with warranties for less than half the price tag online.