Voice Activated GPS Reviews to Help you Decipher your Options
Overview
The voice activated GPS devices provide voice guided directions, and an in-car GPS system can make your life lot easier, and take away the burden of constantly reading things that are displayed on the small screen of a portable GPS navigation system.
So, first up, let us take a look at the common features of these voice activated GPS units, before moving on to individual reviews of the top contenders in this league.
Common Features of Voice Activated GPS Units
Apart from voice input, the common features of these fully featured GPS units include GPS accessories, car holder, car power adapter, USB cable, dashboard disc, remote control, vehicle mount, docking station, mounting bracket, carrying case, automotive windshield mount, navigation instructions, audible assistance, street name announcement, voice command recognition and navigation instructions, street name announcement navigational instructions.
Their service features include speed assistant, speed ETA, lane assistant, GPS PC connection, USB connectivity, Bluetooth, hi-speed USB, calculator, custom POIs, built-in speaker, automatic routing, JPEG photo playback, built-in FM modulator, built-in AAA travel information, 2D/3D map perspective etc.
The weight of such fully featured GPS devices is usually between 6.2 oz to 7.8 oz, while their pricing varies from $100 to $600+
Having seen the quality of the voice activated GPS navigation units, it is time to take a look at the top contenders from various vendors.
Garmin Nuvi 880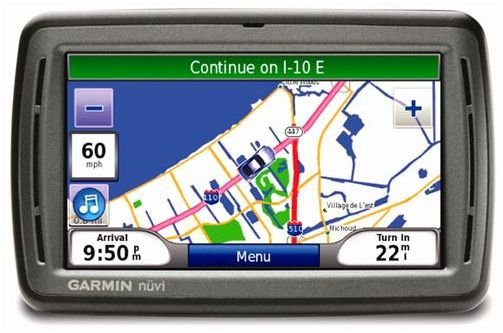 Starting off with Garmin, you can expect nothing but rock solid performance accompanied by loads of impressive features and definitely something out of the ordinary.
Get the Very Best of Speech Recognition Functionality
There are countless portable GPS navigational systems available on the market today, but very few have done well in the testing of speech recognition functionality. Most of the devices understand the neutral accents, but don't respond well to the accents that are affected by mother tongue influence (such as Spanish, West-Indian, or Arabic).
But, when you consider the Garmin Nuvi 880, its powerful and highly accurate speech recognition is capable of easily digesting all kinds of accents and accepting voice input with perfection, no matter whether the user is native English speaker, Spanish, French, West Indian, African, Aussie, or Kiwi. It is one of the best GPS navigation units tested to date, in terms of voice recognition and text to speech functionality.
The Bottom-Line
The Nuvi 880 gives out crisp and clear voice-guided directions, which allow you to concentrate on the roads rather than your GPS unit's tiny screen. This simply means you can not only enjoy audible prompts but also find Points of Interests, navigate home or dictate addresses to the Nuvi 880 on-the-fly.
Navigon 7200T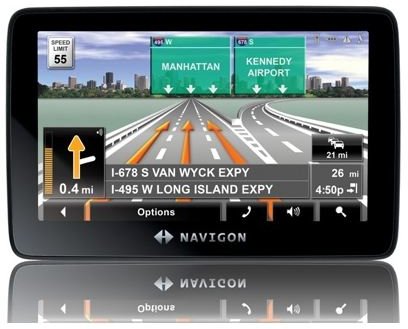 The Navigon 7200T is a decent mid-level voice activated GPS unit that provides 3D renderings of major landmarks, address entry via voice, advanced lane assistance and several special features such as text-to-speech functionality, integrated Bluetooth, and much more. But, this GPS unit isn't as competitive as the top contenders on the market.
Downsides
Although the Navigon 7200 is a decent voice activated GPS devices, the voice command system of 7200T isn't that impressive, as it is just limited to address entry and requires extensive training. Moreover, the user interface of 7200T isn't as simple and clean as the likes of TomTom and Garmin GPS units.
The Bottom Line
Despite the lack of a clean user-friendly GUI, and other minor downsides, it gives accurate directions and delivers satisfactory performance at a reasonable price. Voice command recognition, street name announcements, and audible assistance, and relatively light weight of 6.5 oz, are some of the best highlights of the Navigon 7200T.
TomTom Go 930 GPS
If you're looking for a high-end in-car GPS with the latest features, the TomTom GO 930 delivers with accurate directions and new navigation tools like advanced lane guidance and voice address entry.
Pros
Closely matching the capabilities of Garmin Nuvi 880, the Navigon 7200T and other top contenders in the market, the TomTom Go 930 GPS offers all the advanced functionalities right from 3D renderings of complex intersections, down to entry via voice, lane assistance, and more.
It is a portable navigation system that features a wide screen, text-to-speech, integrated Bluetooth and even optimized route calculation (with the help of historical traffic data).
Cons
Although lane guidance is an attractive feature, it works mainly on major highways, not all roadways. The voice command isn't as convincing as you'd want it, and sometimes may feel that you'd be better off entering addresses using the onscreen keyboard. The dashboard mounting disc is also missing in the box!
The Bottom-Line
It provides accurate directions and features the latest navigation tools such as advanced lane guidance (though it doesn't work on all roadways) and voice address entry (which again requires good training and isn't too convincing). So, although it's considered one of the top choices, pricing-wise you may find better options in the market.
In a Nutshell
The voice activated GPS units have got the cutting edge of voice command input as well as giving voice directions, and making street name announcements, which the normal GPS units lack. However, these GPS units are definitely a bit costlier than the rest, though the extra money paid is definitely worth it!
In case you're running on a low on budget, Magellan Maestro 4250 is one of the other noteworthy affordable GPS units on the market with voice command functionality, which delivers satisfactorily performance and comes with all the necessary features. On the other hand, Nuvi 885T comes with bigger screen and many other impressive functionalities, though the pricing is on the high side.
With all that said, you should be well on your way to making an informed decision.