Eagle Expedition II Handheld GPS Review
Handheld GPS Options
The Expedition II is an inexpensive alternative to superior Garmin handhelds but it's lacking in many areas. If that already turned you off, please use this Bright Hub Channel to find worthy alternatives. A lot of fact-finding and research goes into helping you make an informed decision based upon your preferences.
As far as the best handhelds you're going to find that are designed for the same purposes as that of the Eagle Expedition II, please refer to my article Top 5 Portable GPS Units for Outdoor Enthusiasts. It's a brief two part series that first lists the criteria that makes for a superior handheld and then provides the details (features plus the pros and cons) of the five superlative models on the market. A quick gander at that article will quickly help you see the differences that make those units far more capable than the Expedition II.
While we're talking about better alternatives, quick links from that series will also inform you on the best handheld GPS device for specific outdoor activities such as hiking, hunting, fishing, geocaching and backpacking.
Eagle Expedition II Handheld GPS Review (2 out of 5)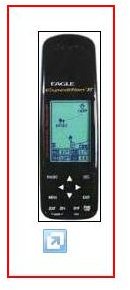 Before it sounds like I'm lambasting this product, let it be said that in the past, consumer research stated that it performed very well for the price. There were and perhaps are many happy owners of this device that came onto the scene around 1997. But now it's outdated. Even finding one now will prove very difficult and it's not clear from affiliated websites (both Eaglenav.com and Lowrance) whether it's discontinued or not but I'm relatively sure it is. But difficulties like that don't bode well for the consumer. A thorough search of other sites that sell a myriad of GPS products yielded no results either.
Here's what we do know about it. The Eagle II has decent storage space (750) for waypoints and routes. It has a 12 parallel channel receiver and is powered by 4 AA batteries. As far as navigational screens it has five screens and 15 windows. It also has the risings/settings of the sun and moon. It weighs about 12 ozs. and these are the size dimensions: 6.75"h x 2.25"w x 1.62"d. The cable plug has reportedly been a problem because it isn't standard can cost over $100. A rechargeable battery pack would set you back that much too. Customers have reported that the battery terminals inside it break and disconnect easily. It has no possibility of adding an external battery. The screen isn't all that durable and it is subject to scratches which is a notable detail for the clumsy adventurists.
If anyone out there does know where to buy one then please comment below. In fact the only solid lead I could find was the folks at Expert GPS who have software (for $59) which is designed to update the capabilities of the Eagle II so if you landed on this article looking to update an Eagle II you already own then please go there.