Maxx Car GPS Reciever Review: Make an Informed Decision
Overview
Available with a 3.5 inches wide touchscreen display and a powerful voice recognition system, the Maxx Digital Media Explorer III Car GPS Receiver offers clean turn directions, multiple routing selections, a personal media player, and it comes with a number of handy accessories.
If you're someone who's prone to ruining your software, then here's some more good news. The Explorer III is offered with a DVD that comes with backup Maps of 48 States, Puerto Rico, Alaska and Hawaii.
Moving ahead, let us discuss all the capabilities of the Maxx Explorer III Car GPS receiver unit, its impressive body design, resolution and some of its downsides.
Display and Embedded OS (4 out of 5)
Powered by the Microsoft Win CE Net 5.0 Core version, the Maxx Explorer III comes with 3.5inches wide touch screen, and a voice recognition system.
Its screen resolution of 320x240 pixels is good enough to display maps in a crisp and clean way even in full screen mode, and aspect ratio of 4:3 ensures that you can see even the minutest detail on the map.
Navigation Software (4 out of 5)
With the fairly accurate Text-to-Speech converter option, the Explorer III does well to recognise complicated names of highways and streets with high levels of accuracy.
You can't really complain about the navigation software, and the device has very good voice recognition system, which can understand neutral as well as other accents with equal ease. It also has the provision of automatic re-calculation of route, if you stray off the original route.
Featured with a user friendly on-screen soft touch panel, millions of POIs, day/night time setting for brightness, touch Screen with LCD backlight operation and lots more, the Maxx Digital Media Explorer III Car GPS Receiver matches the calibre of Garmin and TomTom.
The Best Accessory Package at Such Affordable Pricing (5 out of 5)
Looking at Explorer III's accessories, users get windshield/dashboard suction mount, stylus, owner's manual and quick start guide, a 12V cigarette lighter adapter, and a DVD with backup maps of 48 US States, Puerto Rico, Alaska, and Hawaii.
Its Quick Start Guide provides all the necessary info that may help out even and a beginner level user in getting started with its usage effortlessly. It is one of the best accessory packages available today at such an affordable cost.
Buttons and Physical Dimensions (4 out of 5)
Turning the focus towards the physical dimensions of the MAXX Digital Media Explorer III Car GPS Receiver, it is a lightweight device hardly weighing about 0.47 lbs.
You can find Soft Buttons on Touch Screen for all kinds of operations including reset, Master Power Button, and Sleep (using the Standby Button). There's also a mini USB connector provided with Explorer III, and the device gives clear turn directions with Voice Prompt. Overall, the operation of device is fairly easy, and there's no rocket science involved whatsoever – no complications, no non-sense!
Salient Specs
The Salient features and noteworthy specs of the Maxx Explorer III Car GPS Receiver unit are summarised below -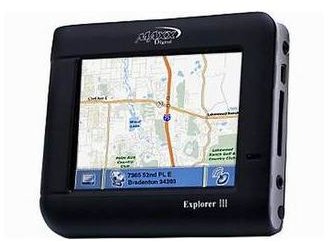 • Text to speech Technology
• High Performance GPS platform
• 3.5 inch LCD touch panel LCD.
• USA Maps
• Mini-USB PC Interface
• Audio Player
• Photo Viewer,
• eBook reader, SD card slot, MultiMediaCard (MMC) slot
• internal speaker and stereo headset jack
Special Features (4 out of 5)
Apart from regular MP3 Player, JPEG Image Viewer and other features discussed already, the Explorer III GPS car receiver also comes with some more surprises under its hood, such as an impeccable trip calculator, which can not only calculate the shortest time, but also plan routes based on minimum use of freeways, shortest distance, or by avoiding as many toll roads as possible.
It also has the option of route recalculation, in case you change your thoughts mid way during the trip.
Overall Performance (4 out of 5)
With 3.5 inches wide touch screen powered user-friendly interface and voice command input, the Explorer III has more than enough to grab the attention of those who're currently on a look for a good car GSP receiver, priced around the $100 mark.
It's a sure thing that you can't compare it with the likes of Garmin, but considering the features of Explorer III and its pricing, it is a great deal, with not much to complain about. It's current retail price is about $105 at Amazon market place, and the pricing is subject to change depending upon the marketplace. You can compare rates here.