Garmin GPSMAP 60CSx - Portable GPS Recommendation Review
Garmin's feature-laden GPSMAP 60CSx is widely regarded as the best GPS for geocaching. The overall design together with the built-in features and capabilities listed below make it a popular choice for backpackers, rafters, hunters, and more. Whether it is the actual best for a given activity is subjective, to a certain degree, but this model covers so many bases that it is definitely worthy of a portable GPS recommendation review.
However, to learn which devices are considered best for backpackers read The Backpacker's Top Ratings for Handheld GPS. If you are going to use a device primarily for fishing then Best GPS Devices for Fishing is the article you want to read and if you are a hunter, refer to A Review of the Best GPS Devices for Hunting.
Features and Capabilities (5 out of 5)
Now let's get back on course with our review of the GPSMAP 60CSx. Here is a list of the features that make it the cream of the crop:
· A High-sensitivity GPS receiver and SiRF star III chipset which is received through a helix antenna locks on to those satellites in heavy tree cover, deep canyons, and heavy cloud cover with 12 channels.
· The electronic compass shows you your heading and direction, which is important but not always included on other models.
· The barometric altimeter allows you to feel proud of the elevation you gained or ashamed of the poor shape you are in when you have not climbed that high at all. Use this feature accordingly.
· The IPX7 waterproof (and dustproof) case can even be totally submerged in water. In addition, a quickly accessible button immediately marks the spot of a "man overboard."
· The display screen is large and in color, easily viewable no matter where the sun or moon happen to be.
· It has a roughly 18-hour battery (2 AA) life.
· Stores up to 1000 waypoints. Plenty of memory (with removable card) to download more maps and you can purchase cards with up to 1 GB of memory for more detailed maps.
· A blank 64-megabyte (MB) microSD card comes with the 60CSx, which enables you to store extra maps from optional MapSource® mapping software.
· Use the USB cable to hook your device to your computer and you can load map data, cache points, or transfer routes and waypoints.
· You can buy extra MicroSD cards that are preloaded MapSource maps if you want them. Garmin's Topo maps are fantastic to have along with you.
This unit looks somewhat like a walky-talky with the antennae. Many folks find the user rather intuitive but navigating through the icons can take some getting used to especially if you have not owned a GPS device before. I highly recommend becoming familiar with your unit by reading the dreaded manual or via the Web before going on an expedition so you will know what to expect and how to make th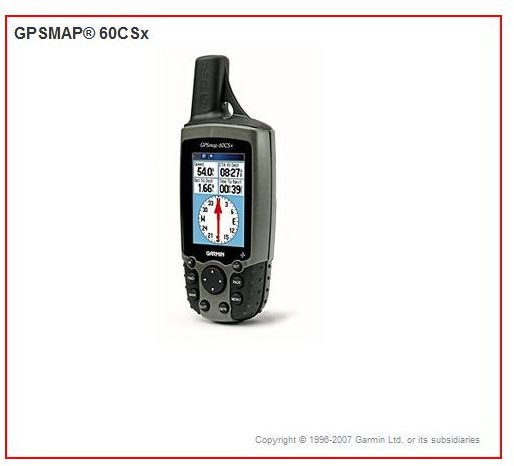 e thing generate the specific information you are interested in. Once you know what Icon's lead you to the vast stores of knowledge about a given feature. This unit will cost you roughly $350.
Personal Experience
I recently took part on a five day rafting expedition on the extremely remote and unique Marias River in north central Montana.
Since none of us had ever navigated the river and knew nothing of where we would set up camp each night, a GPS device was extremely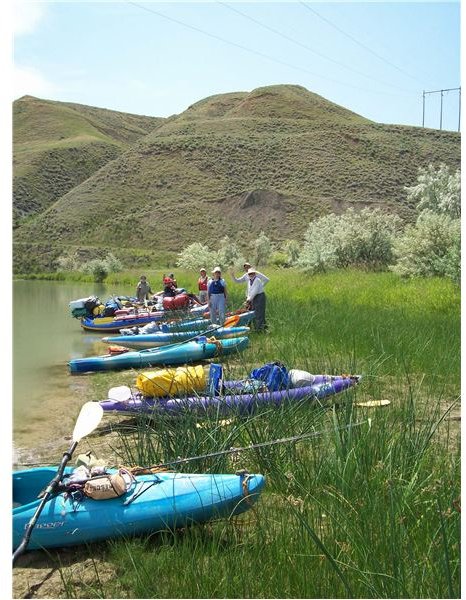 useful in tracking our progress on the river in a landscape that had few distinguishing features other than the high sand stone cliffs guarded by vocal, winged creatures of every shape and size. We were also able to input a few waypoints prior to the trip that marked the approximate sites where Native Americans used the cliffs as a Buffalo Jump.
A few members of our party actually found an old buffalo head that was a remnant of that era due to the telltale hole in the skull where the animal's brain was removed for the purposes of tanning leather. We were also able to find the approximate location of where Lewis and Clark set up camp and where no doubt Sacajawea was baffled for the thousandth time at the strange behavior of the white men, which invited nothing but trouble wherever they went. It was amazing that the five days we took rafting down the river were a bit tiresome yet the members of that exploratory expedition were making their way up that wild, raging river and many others beside it without the benefit of a rubber raft or an electronic device that clued them in to their whereabouts.
We used the GPSMAP 60CSx for our trip and it worked very well for those purposes so that we would arrive at the take out point on the day we planned to, once we had an understanding of how fast the river was flowing and how long it took to float a stretch of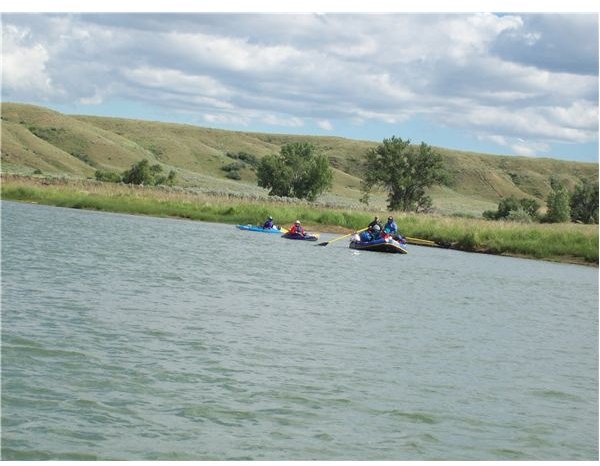 determined river miles. The only thing I found a little lacking was the map itself, which was basic and lacked contours and topography, which I would have found more desirable (a 1 GB card for an additional $50 gives you the capability for more detailed topos.) We were able to determine that it was accurate because we had good old-fashioned paper maps that marked a few sparsely situated man-made features that were obvious to spot. Overall it was a great companion loved by those who desired to know where we were and somewhat reviled by those who would have preferred to remain gloriously lost.