Garmin 396 Review - Good GPS for Pilots and Aviators?
Introduction
The Garmin GPSMap 396 is a navigation system produced, designed, and manufactured for aviators. Although Garmin claims that the unit can be used for marine navigation, I do not recommend it unless you install the optional marine cartography component. However, for aviators, it packs in a lot of features.
Before you go on, please note that the unit is only compatible with Visual Flight Rules (VFR) and not with Instrument Flight Rules (IFR).
Specifications (4 out of 5)
The product's dimensions are 14.5 x 8.1 x 4.8 cm (W x H x D) and it weighs 400 grams. Approaching half a kilogram, it is a portable GPS navigator, but it is not something you would put in your pocket and carry along travelling on foot. The screen is 320 x 240 TFT and supports 256-colors.
The actual receiver of the unit is not disclosed, but it is denoted as a 12-channel receiver.
Design (4 out of 5)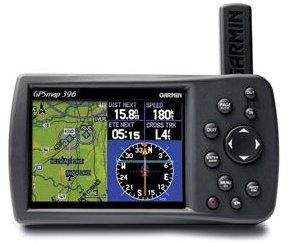 The GPSMap 396 is a dark gray/black product, and it feels very solid and of high-quality. It does not look like an average GPS navigator and implies some "seriousness" with its design. The keys are located to the right side of the display, nicely separated and big in order to avoid the confusion of which-key-is-what during the flight.
The unit is only compliant with Garmin's proprietary data cards, meaning that you will not be able to download your music on a standard SD card and take it on the flight with you.
The yoke and automotive mounts, AC Power adapter and USB cable come with the product. The battery lasts up to 15 hours and there is a battery-saver mode.
Features (3 out of 5)
The Garmin GPSMap 396 has built-in Jeppesen maps. Jeppesen is a Boeing subsidiary, specializing in aeronautical services, such as charting, navigation and flight planning. At this point, I can say that Garmin has made the right choice in terms of the maps. Your route is displayed on a realistic topography, with the option to switch to terrain mode for Terrain Awareness and Warning System (TAWS) to receive TAWS-like warnings, alerts and proximity conflicts. This is something to be considered as a base-line safety, which should be present in all navigation software.
Read on for additional features, price to performance and our overall evaluation of the Garmin GPSMap 396.
Features - continued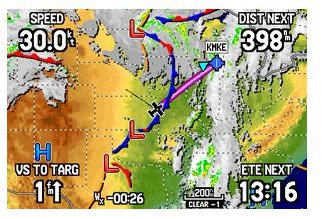 The GPSMap 396 does not come with a subscription to XM WX Satellite Weather services, whether as a trial or a lifetime subscription. If you consider purchasing the product, it is strongly recommended to purchase a subscription to these services because the GPSMap 396 can display the weather data as an additional layer on the maps without confusing it with your existing route. The weather information includes Aviation Routine Weather Reports (METARs), Temporary Flight Restrictions (TFRs), Next Generation Radar (NEXRAD), and lightning and thunder information ahead. If you want to extend your subscription further (at an additional price), you can also have XM Satellite Radio. If you want to display the traffic information used by traffic controllers, you will need the additional Garmin S transponder (GTX 330) to see the TIS data.
As it is one of the primary functions of navigation, you should keep logs of your route. Garmin has its own software, called FlightBook, which you can download and then install on your GPSMap 396. FlightBook records flying hours, arrival and departure conditions, distance, maximum time and maximum altitude. It also lets you create, save, manage and analyze all of this flight data. But there is a serious shortcoming here: even if you have the S transponder, you will not be able to record the weather conditions. Neither does the unit let you take live snapshots from the device, say with a combination of key presses. Personally, I find this a very big negative, because weather conditions are very important in analyzing your navigation.
There is one more criticism here: the GPSMap 396 displays only one final approach path. Of course, there is a reason for this: the product is compliant with VFR only, not IFR. So, the basic idea is to make pilots rely on visual conditions, not instrument conditions. However, every navigator knows he has to take everything into account during navigation, from his own eyes to the instruments, and then he has to analyze this information and make decisions based on it. In marine terms, this is called "good seamanship" and it is the basis of everything. There is no need to cripple the product. Garmin could have included this feature with a warning to pilots.
Price to Performance (4 out of 5)
The Garmin GPSMap 396 is priced at USD 1649 at Garmin's shop. The Mode S transponder is available from various online shops at prices between USD 3395 and USD 3649. You can check the pricing of XM WX Satellite Subscriptions from XM Radio's website.
Overall Evaluation (4 out of 5)
As an aviation-oriented GPS, the GPSMap 396 is a budget navigator. The default features are the base ones that you would look for in every navigator. With the optional accessories, such as Mode S transponder, it comes close to being a complete solution.