Review of TomTom USB RDS-TMC Traffic Receiver: Design, Compatibility, Features & Performance
This TomTom USB traffic receiver is a compact device that attaches to your TomTom device. It provides you with up to date information about traffic conditions via an easy to read user interface. It offers wide compatibility and ease of use.
Design (4 out of 5)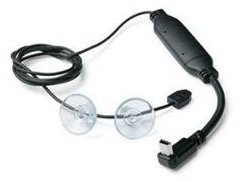 This traffic receiver has a very compact design that plugs into your TomTom device easily. It is also very lightweight and very easy to manage, giving you the ability to place it wherever you want. It is specifically designed to attach easily to the windscreen of your car but you can position it anywhere you want without a hitch. For its simple design, it gets a rating of four over five.
Compatibility (3 out of 5)
This traffic receiver can be used with a variety of TomTom devices, particularly the TomTom GO 920, the TomTom GO 720, the TomTom XL and the TomTom ONE 3rd Edition. It is designed to have the information seamlessly integrate with the user interface of the supported devices, giving you a smooth navigation experience. This compatibility lets you use the traffic receiver on different TomTom devices, which is ideal if you have more than one TomTom device. It is also convenient if you are replacing your TomTom device because you do not have to buy a new traffic receiver.
You must also remember that it is not compatible with Tomtom devices such the TomTom Go Live 550, Go Live 750, Go Live 950 and TomTom Start units. For this section, this traffic receiver gets an average rating.
Features (4 out of 5)
This traffic receiver provides you with accurate and up to date information about traffic conditions in your area. It gets its information from some of the best RDS-TMC providers so you are assured to receive only the most trustworthy data available. The value of traffic receivers rely heavily on the information they can provide and this one definitely delivers.
It gets the traffic information via FM radio signal broadcast that is transmitted by regional providers. This connection allows your TomTom device to receive traffic information relevant to the trip you have set on your TomTom device. The types of information about traffic conditions include accidents and traffic jams. For its quality features it gets a four out of five which is a good rating.
Performance (4 out of 5)
This is a Plug & Go device so there is no complicated installation procedure and extensive set up process involved. You just have to plug it in and you will be ready to use it. This is extremely useful if you want to get your traffic reports with no hassle whether it is your first time to use it or it is the 100th time. It is very simple to use so even people who are new to TomTom devices will not have a problem operating this traffic receiver. The signal quality may be an issue, though, but that mainly relies on the area where you are using it and the signal strength of the regional provider of the traffic information. It gets a four out of five for its quick and hassle free traffic reporting.
Conclusion (4 out of 5)
Depending on the traffic information provider, the signal performance of this device may be a tad lackluster at times. However, overall, it is very easy to use and quite handy when navigating, especially if you are in am urban environment. For its average performance and user friendly design, it gets an average rating. You can buy the TomTom USB RDS-TMC traffic receiver for $129.95.
References
Amazon, https://www.amazon.com/Tom-RDS-TMC-Traffic-Receiver/dp/B000VSWHIO
Halfords, https://reviews.halfords.com/4028/123342/reviews.htm
Play.com, https://www.play.com/Electronics/Electronics/4-/6193886/TomTom-USB-RDS-TMC-Receiver/Product.html
Photo Courtesy of Amazon.com