Garmin Forerunner 405CX Review & How It Compares to Other GPS-enabled Sports Watches in the Series
GPS-enabled Sports Watches
The Garmin Forerunner 405CX is designed for fitness enthusiasts; especially distance runners, cyclists, and cross-trainers. This device looks and acts like a watch except it also knows exactly where you are and can track everywhere you have been, or want to go, right on your wrist. There are several Garmin Forerunner sports watches on the market with different features, capabilities, prices, and styles. We have reviews on most of them which are referenced below under the relevant categories that set them apart so you can determine the best model for you.

Design/Style (5 out of 5)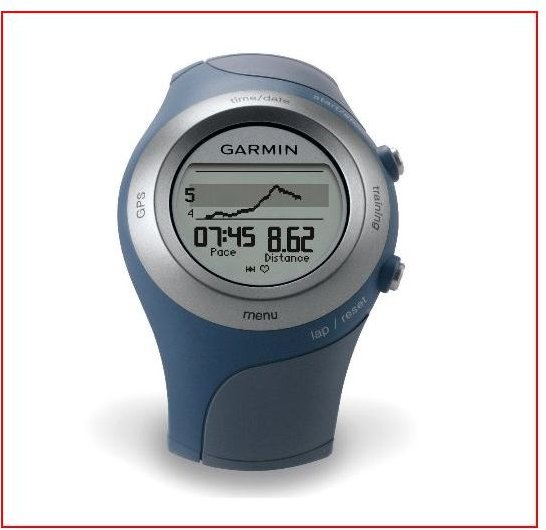 The rugged, lightweight, sleek design is more watch-like than the earlier Forerunner 205 and 305 models. But at the same time the numbers are easy to read on the display so you won't trip on a rock because of too much intimacy between your forehead and forearm. Since it's an upgrade on the Garmin Forerunner 405, the basic design and feature set is the same. Note that it's water resistant but not waterproof.
Features (3 out of 5)
The GPS receiver is very powerful and accurate which is a plus for anyone training in heavy timber trails or tight canyons, be they natural or man-made. As a training partner, this soft-spoken coach will never lie or fudge the numbers when it comes to time and distance. The road-data it collects while you're out conditioning can be sent to your computer for in-depth analysis. Your pace, heart rate, and distance covered can be sent wirelessly (when in range) to your computer which may just motivate you to run harder so you like what you see later. That way you can monitor your progress toward short and long term goals. This unit also has the ability to calculate the number of calories you're burning out which is invaluable to folks trying to lose weight. Features have really advanced since the Garmin Forerunner 110.
User Interface/Performance (4 out of 5)
The touch-sensitive bezel is a double-edged sword and much different than previous Forerunner models. You run your fingers on the bezel in a circular motion and touch it or hold it to program the features. On the one hand, it minimizes the amount of buttons on the watch which streamlines the functionality a bit making it easier to program. The drawback, however, is that since it's touch-sensitive, your data and settings can be altered and even worse, your current run/race information can be totally wiped out if someone or something brushes up against it.
The calculations of current speed, average pace, and of course the distance you've travelled are all extremely accurate with the 405CX. By comparison, however, the feature-laden 405CX is definitely more costly than the older and more trimmed down Garmin Forerunner 305. The lithium battery holds a charge for between six and eight hours which is a little annoying when you're training many hours a week. For those of you who like training with fellow fitness enthusiasts, the Garmin Forerunner 405CX can share information with other Forerunner 405 users, so you might want to talk your training partners into buying one too.
What sets the 405CX apart is the improved heart rate monitor and its ability to more accurately calculate calories burned. The heart rate monitor itself is wireless and flexible which is so much more convenient. More scientifically sound algorithms were included to account for things like more strenuous exertions, such as elevation gain, while calculating how many calories you're burning in relationship to your heart rate, speed, distance, and other relevant factors. It would be a good idea to compare it with the newer, pricier, and more feature-laden Garmin Forerunner 410.
Price to Value (4 out of 5)
You can buy the Garmin Forerunner 405CX starting at around $220 (depending upon the features and extras you desire) at Amazon.com. For all the improvements, it's a good buy. By comparison, here are the current estimates for its counterparts:
Forerunner 110: $250
Forerunner 210: $250 - $300
Forerunner 305: $140
Forerunner 405: $220 - $350 (depending on features and accoutrements you want)
Forerunner 410: $300
Conclusion
Overall, the Garmin Forerunner 405CX is an excellent option due to its significant improvement in accuracy over previous models, the improvements made to calorie calculations and the heart rate monitor, and the sleeker design. But if you think you'd prefer the more traditional programmable button interface than the touch-sensitive bezel design, perhaps you should take a look at this Garmin Forerunner 210 review.
References
Garmin.com
https://www.heartratemonitorblog.com
https://www.runtheline.com/1113/garmin-forerunner-210-review