Garmin GPS Review: Garmin nuvi 2450
Garmin nuvi 2450 Overview
The Garmin nuvi series of car GPS units are known for their reliability and inexpensive price tag. One of the latest nuvi offerings is the Garmin nuvi 2450. At around $200, this model is aimed at the budget audience. But, does it sacrifice quality for the price?
Body (4 out of 5)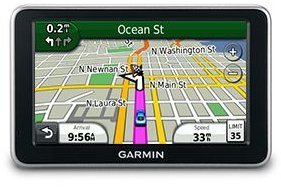 The first thing that you'll notice about the Garmin nuvi 2450 is the size of the screen. At 5-inches wide, it's about the same size as the more expensive models. But, it doesn't weigh any more than the older models, being just about 7 ounces.
The screen has a 480 x 272 resolution, which makes it easier to see your routes. Plus, you can zoom in and out of maps, and you can view maps in either 2D or 3D modes.
Like all Garmin units, the two main buttons are "View Map" and "Where To?". But, on this model, the buttons are to the side and not in the middle. Garmin has added space for buttons for other features, including the ecoRoute.
Features (5 out of 5)
The features of the Garmin nuvi 2450 are amazing. The ecoRoute finds you the route that will save you the most in gas based on how fast the vehicle is moving. The City Navigator NT provides you with street maps of major cities. You can zoom into these maps to check out local landmarks and points of interest. You can save up to 100 routes on your nuvi for future use. This feature is especially helpful for people who like taking a lot of road trips.
This feature works in conjunction with the CityXplorer, which provides you information on cities that you have not visited before. For example, you can obtain information on public transportation.
One of the best features is Lane Assist. This feature not only tells you when you have to get off at an exit. It also shows you the lane that you need to be in. No more guessing which lane is the exit lane. Lane Assist actually shows you this information.
Cons (3 out of 5)
The major downside of this unit is that it doesn't have some of the features that many people find extremely important. For example, you don't get the lifetime traffic updates that you do on other nuvi versions. But, and possibly even more important, this unit is not Bluetooth-enabled, which means that you can't make hands-free call. This could be a deal breaker for many consumers.
Quality for the Price (4 out of 5)
Overall, however, the price is quite right on the Garmin nuvi 2450. It also does come with some very important features, including Lane Assist and the nuRoute features. It also has a large screen, making it extremely easy to find your exit.
If you are willing to sacrifice the Bluetooth connectivity, then you should definitely check out the Garmin nuvi 2450. If not, then you may want to upgrade to a higher-priced model. But, budget consumers will love this model and its features.
References
GPS Reviews, https://cargpsreviews.net/garmin-nuvi-2450-review.php