Garmin GPS Watch: Garmin Forerunner 310XT Review
Garmin Forerunner 310XT Overview
The Garmin Forerunner 310XT is a GPS-enabled sports watch, specifically designed for triathletes. This watch is rugged and waterproof. But, at nearly $350, many people wonder, is it worth the money?
The Forerunner 310XT has taken the place of the Forerunner 305 and 405. But, it's actually more than a simple upgrade. Garmin has added a lot more features to this watch, and it is also stylish.
Body (4 out of 5)
The first thing that you'll notice about this watch is the body. It has a large screen, and the start and stop buttons are right on the front. The color scheme of silver, black and orange works well. Plus, it's smaller than the older versions, making it look more like a standard watch.
This watch is completely waterproof, meaning you can go swimming and boating without needing to take it off. The battery is also great. It works for up to 20 hours on a single charge.
Features (5 out of 5)
The Forerunner 310XT is simple to use from start to finish. As soon as you turn it on, it walks you through the process of setting it up,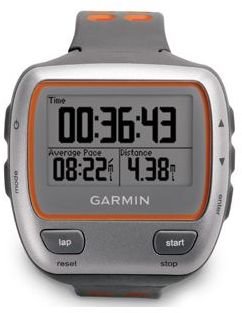 and then it saves all your data. It tracks items like heart rate, distance, calories burned and elevation. It even comes with different presets for different bikes. So, you can input all the information for every type of bike that you have. It will keep track of the footpods and the RPMs.
The watch provides you with constant information on your performance. It does this both visually and verbally, allowing you to insert headphones into the watch and track your progress. You can keep track of up to 16 metrics for every sport that you do. You can graph your heart rate and even view your nautical speed.
Once you are done with training, you can then download this information to your computer via a USB cord. You can use this information to track your progress over time.
Cons (3 out of 5)
One minor issue is setting up the heart-rate strap. While these two items are compatible, it may take a couple of tries to get the watch to recognize the strap. The other issue is the price. It's really expensive for a sports watch. But, if you are looking for something with a lot of features, then you just can't beat what Garmin has to offer.
Bang for Buck (4 out of 5)
Overall, the Garmin Forerunner 310XT watch looks good, and it works even better than it looks. It's extremely simple to use, and it is perfect for the multi-sport athlete. It accurately tracks all your data, and you can then transfer this data for future reference.
If you simply can't get past the price, then wait about a year until the new model comes out. The price will dramatically drop.
References
Honan, Mathew. "New Garmin is Hands-down King of Wrist-mounted Trainers", https://www.wired.com/reviews/2009/05/pr_0526_garmin_fr60/
Garmin, https://buy.garmin.com/shop/shop.do?pID=27335
Image credit: Garmin website