GPS Watch Review: Garmin Forerunner 410
Forerunner 410 Overview
The Garmin Forerunner 410 watch is a GPS-enabled sports watch. It keeps track of your heart rate, pace, elevation, and distance gone. But, you are wondering if this watch is worth the money. Well, it might just be if you are willing to pay for the many features.
Body (4 out of 5)
The Garmin 410 is the latest update to the popular Garmin 405, but the 410 is more than just an update. It actually has a lot more features than its predecessor. It comes with a chest strap, which is more comfortable than the standard heart rate strap originally offered by Garmin. You also get the heart rate strap and a Velcro band with the kit.
The body of this watch is very sleek, and the controls are easy to learn since they act like standard watch controls. You can run this unit either as a standard watch, or you can turn on the GPS and sports features when you need them. Being able to shut off these features is a huge advantage since it saves you on battery life.
Features (4 out of 5)
You can personalize the watch. You can view either one large display, or you can break up the display so you can see multiple items on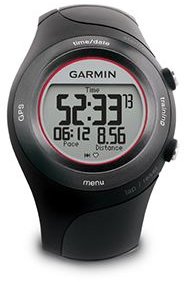 the screen.
The battery life of this watch is decent, considering how many features that you are running. You have between seven and eight hours of use in GPS before you need to charge the battery. It comes with an optional wrist band that you can easily remove whenever you need it.
This watch provides you with time, distance, pace and heart rate notifications. You can connect it to your computer via a USB cord so you can download your information and save it. It is compatible with Windows computers and Intel-based Mac systems.
Other features include an Auto Pause feature that stops recording information if you have to stop for a stop sign or red light. The Autolap uses touch controls that help you easily and quickly find what you are looking for.
Price (3 out of 5)
The only downside to this watch is the price. It costs approximately $330, which is quite expensive for a sports watch. But, you are paying for all of the extra features, which are well worth the money.
Bang for Buck (4 out of 5)
Overall, the Garmin Forerunner 410 watch has a nice look, and it is packed with features. If you are an athlete, this product efficiently records your statistics, and you can download this information to your computer so you can save these stats for comparison purposes.
While the price is steep right now, it's bound to come down in a year or two if you are willing to wait. If not, then the features more than make up for $300 plus price tag.
References
Garmin, https://buy.garmin.com/shop/shop.do?pID=83274
Lisa Reviews, https://www.heartratemonitorblog.com/garmin-forerunner-410-gps-watch/
Garmin Forerunner, https://garminforerunnerreviews.org/the-garmin-forerunner-410-review-an-updated-version-of-the-405/