Review of the Garmin ForeRunner 110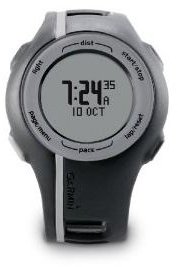 The Garmin Forerunner 110 GPS watch is the latest in a series of watches for the avid runner. It is a more stylized and simpler version of the Forerunner 405 which makes it great for the runner who wants to be able to do the basics without having to scroll through endless menus of options they will never use.
Style (5 out of 5)
The number one improvement that Garmin made with its release of the Forerunner 110 is the form factor. This unit actually looks like a watch instead of some giant chronometer. The sleek grey unisex design looks good with any running apparel. The upgraded black/red and grey/pink heart rate monitor versions don't skimp in the fashion department either. It looks so good you may end up wearing it all the time.
Features (4 out of 5)
The Forerunner 110 features real time GPS tracking that records distance, time and pace of the wearer. Although there is no immediate speed calculation (like in the 405) there is a feature that gives your pace over the last mile. This data can be uploaded to the Garmin site to do in depth analysis of your run. The unit holds data for all of your past runs so you can track progress over a time period. The eight hour battery life is more than enough for a series of good runs and will last in stand-by mode for upwards of three weeks.
Ease of Use (5 out of 5)
Garmin stripped down this unit so it is almost out of the box ready to go. Once the battery is initially charged you simply walk outside and answer a few calibration questions. Hit the start button and start running. When you're done hit the stop button. That's it. Really. The unit couldn't be easier to use.
Value (4 out of 5)
With a price tag of $199.99 this isn't a cheap GPS tracker. Considering you can get several cell phones with GPS applications for this price it isn't going to be a good value for the casual jogger. This unit was specifically designed to meet the needs of the no frills runner. The addition of the heart monitor on the red and pink versions (for $50 more) puts more of a value into it.
Overall (4 out of 5)
The Garmin Forerunner 110 is an excellent product, slightly overpriced, but nonetheless a product that many runners are going to be interested in. The simplicity of the controls and set up combined with the ability to use Garmin's analytical services makes this great for marathon training, physical rehabilitation or cross training. Performance measuring devices like this very rarely look as casual and perform as well and the addition of a heart monitor makes this more than just a training device, it can be used as a non invasive heart monitor as well.
References
https://sites.garmin.com/forerunner110/
Image Courtesy of Amazon.com