GPS Review: Garmin Approach S1 Review
Overview
The Garmin Approach S1 golf watch helps golfers figure out green distances and where they are. The theory of the golf watch has been around for quite a while, but it hasn't really caught on since the watches weren't that accurate. Garmin has entered the market with the Approach S1 watch. In this Garmin Approach S1 review, Bright Hub will review the salient points of this watch and help you figure out if it's right for you.
Price and Body (4 out of 5)
One major selling point for this watch is the price. In 2011, it only costs about $250, which isn't bad for a GPS unit. And, you don't have to pay any type of yearly subscription fee for service. So, it's just the one up-front fee, and you are done.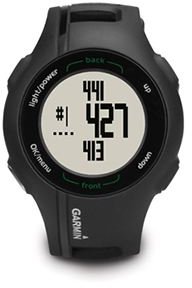 The GPS watch also has a nice look. In fact, it just looks like a standard watch so there's a chance that your golfing friends might not even notice it. The LCD screen is backlit, allowing you to read the display in bright sunlight, and this light also helps you see the screen in low-light situations. The display has gray characters. The watch is waterproof, and it comes with an alarm.
Features and Battery (4 out of 5)
The Approach S1 comes with more than 14,000 American and Canadian golf courses already preloaded onto it. The watch provides you with information on where you are on the golf course, including yards to the middle, back or front of the green. It also has a built-in odometer that lets you know how many miles you have walked that day.
You can measure shot distances using this device. You simply start button and then walk to your ball.
The battery is average, but serviceable. It will last up to 3 weeks in watch mode and up to 8 hours when in GPS mode. But, the battery is rechargeable so you'll just have to carry a charger with you in the car.
Cons (3 out of 5)
The cons to this device include that you can't see images of the courses. You also can't keep track of your or your golfing buddies' scores or track your stats. You'll still have to do this manually.
There's one more slight downside, and it's not even that major. It could take up to a minute to obtain a satellite signal. So, you should turn it on before you step up to take your shot. Or, you'll have to tie up your friends for a few minutes.
Bang for Buck
Other than that, the Garmin Approach S1 golf watch doesn't have any major downsides. It's relatively inexpensive, and you don't have to pay a subscription fee. It does the tasks that it's supposed to do, and it's easy to use. So, if you've been in the market for a golf watch, then you should definitely check out this golf watch.
References
Garmin, https://buy.garmin.com/shop/shop.do?pID=83068&ra=true
GPS Technology Reviews, https://gpstekreviews.com/2010/11/29/garmin-approach-s1-gps-enabled-golf-watch-review/
Critical Golf, https://criticalgolf.com/golf-gps-reviews/garmin-approach-s1-review/