Read GPS Reviews and Comparisons Before Buying a New GPS
GPS Reviews and Comparisons
GPS navigation systems for cars are highly popular for everyone. They make navigating around easier and are a huge benefit when traveling for work or on vacation. They are easier and safer to read than paper maps, which is a huge bonus too.
The huge demand for these GPS devices has made them a standard addition in many new vehicles. However, older model cars still need to purchase a portable GPS device to bring with them to navigate with.
These GPS reviews and comparisons will help you to decide which model will be best for your budget. As will all electronics though, if you wait long enough, even the most expensive will eventually come down to a price range that you can afford.
Low Budget
Many people want a GPS but aren't quite sure how to work one or even their capabilities. They really just want something to help them navigate and look cool in their car. For this group of consumers, a low budget GPS navigation device for their car is the best option. That way, if they don't get much use out of it or like it, they didn't waste a lot of money on it. Here are the GPS reviews and comparisons of two popular low budget units.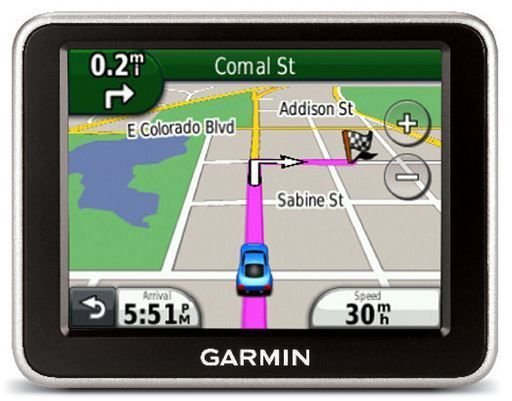 Costs around $90 and can even catch it on sale for much lower if you look for it.
Screen size: 3.5" touchscreen
This is one of the cheapest Garmin GPS navigation devices for the car that is available. It offers most of the same features as the Garmin 255W, but is one inch smaller and costs less. This is a quality low budget GPS device that will last. It only includes one free map upgrade though.
TomTom ONE 130
Costs around $85 and can also be found considerably less if you look for sales.
Screen size: 3.5" touchscreen
This is a lower budget TomTom GPS device. It offers a free map upgrade, but TomTom also has the ability to let their users use their "Map Share" technology where you can edit street names and other points of interest.
The Winner?
Probably whichever one you can find cheapest. Neither of these offers anything significantly greater than the other.
Medium Budget
The medium budget for GPS devices for the car will all be 4.3" or at least they should be. These are models that are in the $100 – 200 range for drivers that know they want a GPS device and don't mind spending a little extra on it.
Costs around $110 and can sometimes even cost less than $100.
Screen size: 4.3" touchscreen
This GPS used to cost almost $200 and has come down drastically the past year. It also only includes one free map upgrade, but they don't really change too often anyways. Garmin also offers free voice downloads and cars.
This is the GPS that I use in my car. I actually purchased it for use when I was a pizza delivery driver. So, I can say that it is a very helpful GPS with all of the features you'd need to navigate around with in an area you may not be familiar with at first. I also tested it on a vacation and it took us exactly where we needed to go.
Costs around $175 and can sometimes be found for less.
Screen size: 4.3" touchscreen
TomTom also offers a map upgrade and the ability to use their "Map Sharing" technology. The TomTom Go 630 also offers Bluetooth enabled hands free calling. TomTom also offers users the ability to change the device's voice to pop icons such as Homer Simpson and Ozzy Osbourne.
The Winner?
This is a close call in GPS comparisons and reviews. Both of these GPS devices offer excellent navigation for your car trips. However, the TomTom Go 630 offers the added bonus of the Bluetooth hands free calling. If this is something you are looking for, the extra money would be well worth it. If not, the Garmin Nuvi 255W would be a wise choice for the low price.
High Budget
Some people just love to purchase expensive electronics and always have the most advanced models. For this type of consumer, the high budget models are the best choice.
Costs around $330 and the Garmin Nuvi 3790LMT version costs around $399.
Screen size: 4.3" touchscreen
This is one of Garmin's best options that is available right now. This model is slimmer than previous models, features voice recognition and even 3D maps to navigate with. This model also features the Bluetooth compatibilities and has a built-in microphone to use with it and the voice recognition tools. One very cool feature is that you can use this GPS device either horizontally or vertically. This model also offers traffic features and other options that would be essential on the device with the high price tag.
Costs around $225 – 300 depending on where you shop and if it is on sale.
Screen size: 4.3" touchscreen
This is one of the best GPS navigation systems by TomTom that is available right now. It has refined navigation features that also use Google Local Search to make sure you get to where you need to go. It also offers weather forecasts, IQ routes, voice commands, map sharing, real time traffic data, daily map updates and Bluetooth hands free calling features.
The Winner?
Both of these models would be a good buy for a high end budget. However, The GPS comparisons and reviews of these two models does seem to have the Garmin Nuvi 3790T come out on top because it has more advanced features.
References
Faustus, Robert. "Garmin nuvi 3790T Review", https://www.brighthub.com/electronics/gps/reviews/90137.aspx
Source: author's own experience.
Image courtesy of Garmin.