Top 5 Best Golf GPS Units for the Serious Golfer?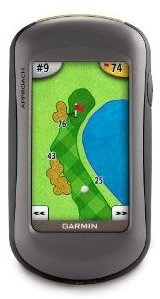 Garmin Approach G5 Golf GPS
The Garmin Approach G5 is a fantastic find for the avid golfer. At less than 7 ounces you won't even know it's clipped to your belt. This GPS has a full color dynamic touchscreen display that is readily visible in sunlight. The GPS comes with thousands of preloaded golf courses and several more that can be downloaded at the Garmin site.
The touchscreen display allows for a touch targeting system that gives extremely accurate readings for possible shots. It maintains its link to the satellite so the GPS is updated in real time. Best of all there are no subscription or setup fees and the Approach is compliant with USGA rules.
The Approach also comes with a digital scorecard for a foursome that can be saved and downloaded to a computer for review. There is also an easy to use stat tracking program that keeps track of greens and fairways hit and putts per round. At $324.85 this gadget is sure to shave a few stokes off your game.
SkyCaddie SGX Golf GPS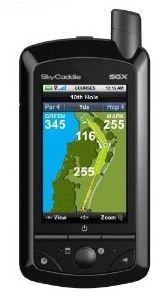 SkyCaddie is the number one name in golf GPS for 10 years running. The newest addition to the SkyCaddie family is the SGX GPS. The SGX GPS can store up to 30,000 pre-loaded, ground-verified course maps. The next step that skyCaddie is implementing is a real course view incorporating actual pictures of the courses. It also has a sleek design with a large 3" high resolution touchscreen. This one is golfer friendly as it only takes one hand to operate.
The Truepoint GPS system works with an omnidirectional antenna to obtain GPS information from multiple satellites. It has better accuracy without obscuring screen information or leaving fingerprints or smudges. The StayLock feature stays locked on satellite to optimize performance and accuracy in all terrains, even under tree foliage.
The SGX GPS stores up to 50 full-featured courses with a SkyCaddie Membership Plan. There are no extras needed as the SGX comes with SkyCaddie SGX device, Rechargeable battery, LCD screen protectors, USB cable, AC power adapter, Heavy-duty belt clip and a Quick Start Guide. The unit retails for $338.00 but requires a subscription service ranging from $19.95 to $199.95 a month.
Callaway uPro Golf GPS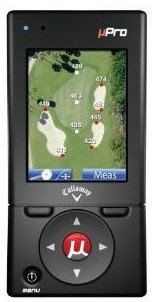 The Callaway uPro is a good value at $199.99. It offers two display modes, a standard and a pro version. Although there are a few complaints that the display is hard to read in pro mode this is easily handled by shading the unit with your hand or just turning your body a bit. The range finding is spot on and the courses are beautifully rendered on the screen. The Pro mode is what makes this unit stand out from the others. It gives the golfer a flyover of the hole complete with yardage markers (at 50, 100, 150 and 200 yds). The enhanced features offer not only distances to the hazards and pin but lengths of the hazards as well. It also gives a very detailed display of the course so that there are no surprises on that Dog-leg par 4. It's compatible with both Windows and Mac operating systems so updates and loading new courses is really easy (and although there were initial complaints of slow loading the updated software that now comes standard with the system has eliminated this).
Although it isn't as complete or streamlined as the Garmin or SkyCaddie it is a good deal for the money, there is no subscription service (courses are on a pay per course download), and downloading the courses you will need is quite easy with both Microsoft and Apple systems.
Golf Buddy World Platinum GPS Range Finder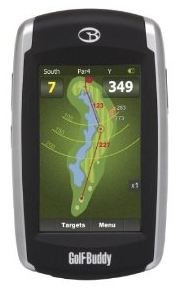 The GolfBuddy World Platinum GPS really doesn't live up to its name, at least not totally. For $329.98 it is expected to be at least as good as the Garmin but it isn't. It does offer Golf GPS rangefinder with automatic course and hole recognition, 40,000 preloaded courses from around the world, a full-color, high-resolution, outdoor-visible touchscreen display, 4-player score tracking feature that calculates distance hit with each club shock and water-resistant housing and lithium-ion rechargeable battery. With all of these features it still doesn't compare to the Garmin because many of the courses that are loaded only show shots of the green with distances instead of full hole layouts.
GPS Golf Guru 4 Precise GPS/PDA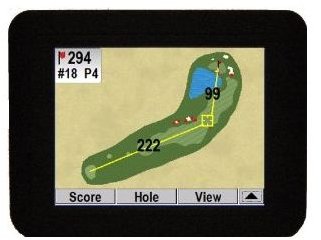 The Golf Guru 4 Precise is a Golf Rangefinder with Multi-application capabilities is more than the traditional golfing GPS. Offering the largest screen of all the items reviewed here at 3.5 inches the touch screen lets you listen to music, view pictures and even play movies on the journey between holes, all while providing a fantastic tool for enhancing your golf game. The size of the screen also allows on screen information to be read without needing to squint or pull out your reading glasses. There is no fine print here only a great deal of good course information. I recommend this GPS unit because of its versatility and ease of use (especially for the senior golfers out there). The GPS Golf GURU 4 is available for $285.53 making this is the top buy in the best golf GPS category.