Geocaching Treasure Ideas - Unique Geocoins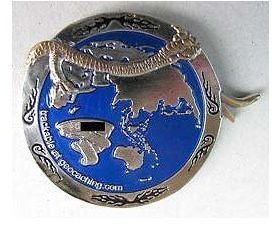 About Unique Geocoins
Geocoins are a favorite geocaching item of choice for geocachers. They are made with different materials including copper, silver, nickel and pewter. These coins have many themes. For the discriminating geocacher, unique geocoins that have been released in limited editions are highly sought after. The following geocoins are definitely worth a look.
Dragon Ladon Geocoin
When it comes to unique geocoins, designs with dragons are an interesting choice for geocachers. This Dragon Ladon geocoin is made of nickel plating with pewter and displays a dragon imprinted on an earth globe background. It is beautifully designed with a royal blue background. The geocoin is trackable through Geocaching.com. If you are looking to purchase one, your best bet is eBay.com since only 200 coins were produced in its initial minting.
"Poverty Sucks" Geocoin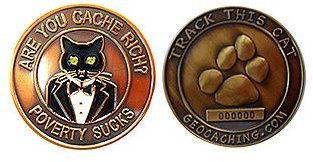 This unique geocoin is made with antique bronze. It is designed with a black cat wearing a tuxedo. The caption reads "Are you cache rich?" and "Poverty sucks." The geocoin measures at 1 ¾" in diameter. The limited edition geocoin can be found at Walrus Productions.com and RW Innovations.com.
Breast Cancer Angel Geocoins
Susan G. Komen for the Cure is a non-profit organization focused on bringing awareness and raising money for breast cancer research. These unique geocoins are made with imitation soft enamel with an angel design. There are six variations of this geocoin, each with different colored hair, skin color and angel wings. They can be purchased from USA Geocoins.com for $9.99 each. A dollar of this purchase goes to the Susan G. Komen for the Cure organization.
Butterfly Kisses Suncatcher Limited Edition Geocoin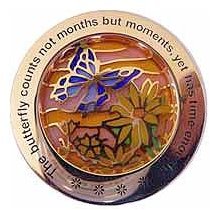 This copper geocoin is designed with colorful blue butterfly and yellow flowers. Only fifty of these geocoins were produced. GeoTrackCoins.com offers this item for $19.50.
Garmin GPS Festival 2010 Geocoin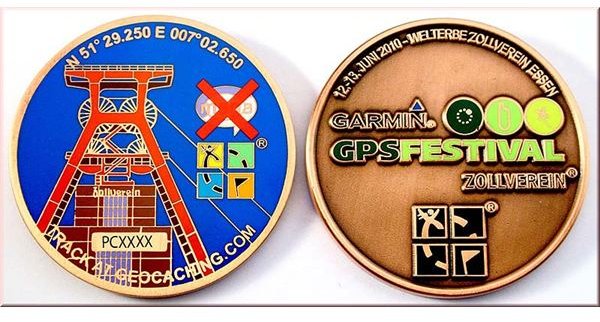 The Garmin GPS Festival Mega Event that was supposed to take place in German July 31, 2010 ended up being cancelled. This Garmin themed geocoin represents the cancelled event. The geocoin is made with antique copper with the Garmin GPS Festival on one side, and an image of a structure that is located at the event's site with GPS coordinates. This limited edition (only 100 produced) geocoin can be purchased through the GeoCoinShoppe.de website.
Blarney Geocoin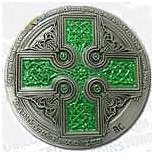 This unique geocoin is made with antique silver and green glitter material. The design is a green Celtic cross and measures 1.75" in diameter. Available at GeoTrackCoins.com for $19.50.
Images for the Unique Geocoins for Caching or Collecting article were provided with permission from the following online sources:
Blarney Geocoin - https://geotrackcoins.com/
Garmin GPS Festival 2010 Geocoin - https://www.geocoinshop.de
Dragon Ladon Geocoin - https://www.geocoinvault.com/
Poverty Sucks Geocoin - https://www.rwrinnovations.com