The Geocaching Grab Bag - Good Sources to Find Lots with Geocaching Swag, Supplies and Caching Starter Kits

What is a geocaching grab bag? Online retailers who specialize in geocaching products put together a small selection of related swag or survival items and sell them as grab bags or kits. Some offer grab bags with the same items like geocoins. Other geocaching retailers offer lots with mixed items. If you are an active geocacher who needs these types of items, the following geocaching grab bags may be worth a look.
Micro and Long Cache Capsule Grab Bags
Geocaching containers are an essential item needed to hide caches. Capsules are perfect for safely storing small items. CacheBoxStore.com offers geocaching grab bags in "Micro" and "Long" size with 6 capsules in each lot. The "Micro" cache capsule is 1.5" while the "Long" version is 2.75" in length. Both geocaching grab bag lots are priced under $10 each.

$10 Grab Bag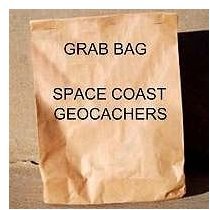 SpaceCoastGeocachers.com sells a geocaching grab bag that includes at least one trackable geocoin along with a selection of other swag items.
Geocoin Addict's Grab Bags
Through eBay.com, visit the Geocoin Addict's Store to purchase lots of three to five random geocoins. These are trackable geocoins that can be activated for use in caches. The lots with three geocoins sell for $30 which includes shipping, while the lots with five geocoins can be purchased for $38.
Geocoin Grab Bag
At the GeoSwag.com website, you can purchase a geocaching grab bag that includes a variety of 4 geocaching coins along with a bunch of other swag items like geopins, key chains, embroider patches or wristbands. This item is priced on their website for $29. GeoSwag.com also offers lots with 5 geocaching pins and 9 embroider patches for under ten dollars.
Geocaching Survival Bag
For $69, you can purchase a geocaching grab bag filled with over 120 items that are useful for caching adventures. These items include a flashlight, geocaching pencils, waterproof note cards, permanent marker, geocache notification decals, geocaching containers, magnets, waterproof labels/logs, zipper bags, pocket knife, band aids, compass and magnifier. The bag itself is made with heavy canvas with several pockets for storage which includes a zippered one that is waterproof. Visit the MyGeoCachingStore.com for more details.
Cache-Master Cache Kit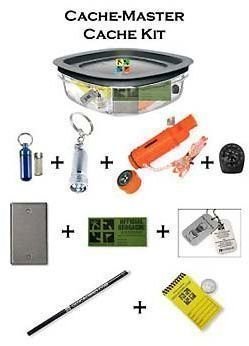 This is a special kit for kids that want to get involved with geocaching activities. It includes geocaching containers, log sheets, LED flashlight, geo-pencil, emergency survival compass and whistle, geocache stickers and travel bug. The Cache-Master Cache Kit is available from CachingBox.com for $29.99.
Hide-A-Cache Starter Kit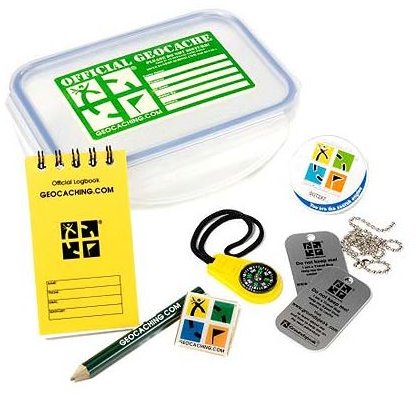 The starter kit by Groundspeak gives you the basic items needed by a geocacher to prepare and hide a cache. It includes a clear waterproof geocaching container, logbook, geo-pencil, compass, 2 Travel Bug tags and a geocoin. This item can be purchased through the Rei.com website for $24.95.
Images used for the geocaching grab bag article were from the following sources:
Micro and Long capsule grab bag images - https://www.cacheboxstore.com/
$10 Grab Bag image - https://shop.spacecoastgeocachers.com/
Cache Master Cache Kit image - https://www.cachingbox.com/
Hide-A-Cache Starter Kit image - https://www.rei.com/