A Compilation of DeLorme Earthmate PN-40 Reviews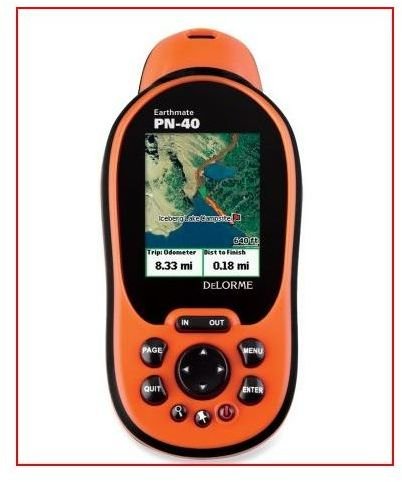 In this compilation of DeLorme Earthmate PN-40 reviews we collect all the necessary data about this portable, handheld GPS device, and then comb the Web to see what the experts and consumers alike are saying about it. We'll concisely boil down all that information to the key ingredients that will help you make an educated decision if you're interested in buying one.
Key Features and Capabilities
First, let's list some of the prominent features and capabilities. The Earthmate PN-40 has a 32-channel STMicroelctronics Cartesio chipset and DeLorme ConstantLock technology which in English, translates to extremely quick satellite acquisition and staying locked on to the signal in dense areas where satellite reception is traditionally difficult. It has a dual-core processor.
Unlike other models, the three-axis electronic compass will give you directional readings in any position. It's also got a barometric altimeter, great for those climbing expeditions. The colorful, bright screen (4.4 x 3.5 cm) displays both map and aerial imagery extremely rapidly. The USGS Topo maps it comes with give highly detailed maps. For a subscription fee, you can download an unlimited amount of maps from DeLorme. It also supports convenient SD card technology. As a means of comparing the PN-40 to other top devices in this arena, you might want to read these reviews of the Oregon 550 and the Oregon 550t.
Pros
Users are quite satisfied and impressed with the quality and lightning-fast rate of speed the aerial imagery and Topo maps update.

Satellite acquisition on the PN-40 is faster than many other GPS models on the market.
Another thing consumers are extremely satisfied with is how great that reception is under stormy skies, in heavy under brush, and below the most dense tree cover in the mountains.
Although some find any subscription fees a hassle, in the long run, the $30 annual fee for unlimited downloading of quad Topo maps, imagery, and charts is not only convenient, but buying all those for other GPS devices could wind up costing you more.
It has paperless geocaching, and the screen is easy to read in all light conditions.
DeLorme informational forums and customer support is top-notch.
Cons
The small screen is a serious drawback for many folks since so many of DeLorme's competitors have larger, more innovative touch screens. With such phenomenal speed in map redrawing and image rendering available in the PN-40, it's a shame there's not a larger screen to view it all on.
The user interface requires somewhat of a lengthy learning curve, and the same can be said for the accompanying Topo USA software. The upside of this, however; lies in the fact that once you're familiar with the user interface, you'll discover it has an extremely large degree of functionality for all the things you'd like your GPS to do for you. How to Use an Earthmate PN-40 is an easy-to-follow tutorial that will set you straight on the basic features, plus it provides a quick link to the official DeLorme online users manual.
In Conclusion
Sifting through all the DeLorme Earthmate PN-40 reviews and customer feedback reveals that overall; this portable GPS is an outstanding offering, especially with the aerial imagery available. It's great for geocaching, hunting, hiking, and virtually all other outdoor pursuits as well. Plus it's sold for a reasonable price. Several different bundle packages get pricier as you include more bells and whistles. Here at Amazon.com, they sell one for about $375.