Your Ultimate Resource to Geocaching in Japan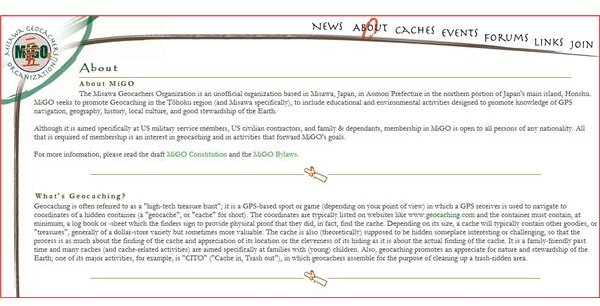 Geocaching offers tourists the opportunity to pack along their GPS devices with them to find the caches that Japanese geocaching enthusiasts planted in places that they found interesting. Therefore, you might get to avoid the tourist traps and see a little of Japan through the eyes of the native citizens. Japan doesn't have nearly as many geocaching opportunities as the US does, but the number is growing rapidly. In fact, some avid enthusiasts used to just download every available geocache that geocaching.com listed before they left for Japan. But that was when there were only 400 in the whole country, whereas now; the number is well over 2000. But the idea was to have all the options available to them depending upon where they roam.
First off, you're going to need to upload some Japanese maps onto your GPS device. Do you own a Garmin? If you're looking to see if you can find some free ones for it out there, perhaps you should read Third Party Free Maps for Garmin GPS. That article is part of a series regarding maps for Garmin devices which covers MapSource software, acquiring Topo maps, and how to add maps. It's a good resource to have when you're travelling somewhere that you'll need new maps for. A good source for navigation maps of Japan with turn-by-turn directions (in English of course) as well as Topo maps is at uud.info.
Useful Online Forums and Websites
It's always a good idea to check out Groundspeak Forums, because fellow geocachers post tips, advice, helpful translation resources, and their own experiences with particular caches in a kind of review form. The forum I linked you to above is dedicated to caching in Asia, and there are many posts about Japan, so just scroll down and choose topics that will help you out.
The newly formed Misawa Geocachers Organization promotes geocaching in and around the Tohuku territory, which is located in the northern region of Japan's main island, Honshu. It's essentially for US military personnel, their families, contractors, etc., but it's open to anyone. They list a few good geocaches that they recommend, give details on events, links, and host online forums related to this hobby.
Seek and Ye Shall Find
Geocaching.com is still the best place to find caches that you want to find based on your preferences, skills, and other interests. On their site you can download all the details onto your GPS and even go paperless if your device has that capability. At Rest At His Master's Feet is a popular Tokyo cache that requires you to do some mental footwork too. From that link, you can search for all caches around Tokyo, or expand your search for anywhere else in Japan. Using their Google maps feature is a quick way to see where they're all at, than just zoom in on any that interest you for all the details.
Are your kids going along with you on the trip? If they are, this article entitled Geography ABC's - Japan is a fun read that will teach them a lot about the Land of the Rising Sun. They'll learn some interesting facts about Japan and with the great pictures accompanying the article; your kids will be able to know what they're seeing before they see it in person. Enjoy all that Japan has to offer in geocaching, culture, and natural history. Be respectful of their customs especially around any temples and sacred places. Good luck and cache on!