Learn Tips on How to Use EarthMate GPS Devices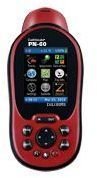 DeLorme Earthmate GPS
DeLorme produces the EarthMate GPS mapping devices that allow users to see aerial and satellite images as well as topographic maps. But, there's more to using your EarthMate GPS than simply turning it on and going. Here are some tips on how to use your EarthMate GPS by itself and with some other software programs.
While this may be one of the easiest GPS systems to use, you still need to know how it works before you can go hiking in the backcountry or going out to find a geocache stash. So, here are some steps on how to use the EarthMate GPS.
Instructions and Features
First of all, you need to turn the GPS on. This can be done by power button until a welcome screen comes up. If this is the first time that you have turned on the device, you'll probably be in the Demo mode. You should go ahead and watch the tutorial as it will get you familiar with the GPS device and some of its features.
Some of the features of the EarthMate are as follows:
Find – This is the magnifying glass. With this tool, users can search for a variety of items, including GPS addresses and locations.
In and Out – This tool allows you to zoom into or out of features on a map.
Mark – This is the pushpin button. You can mark exactly where you currently are using this button.
Page – This will allow you to move through the pre-set pages for the device.
Quit – If you want to get out of a screen, map, etc., you can always hit the quit button to take you back to the main screen.
Finally, if you want to power off your device, press the power button again. Generally, you will get a screen that will request that you press Enter if you really want to turn off the device. Press Enter.
Adding Street & Trips
While EarthMate comes with topographical features, you may want to add some street views to your GPS device. Microsoft Street and Trips allow you to do just that. So, if you want to use Microsoft Streets and Trips with your EarthMate GPS, you need to add a driver to your GPS. To do that, simply follow the below procedures:
Plug your device into the computer so that your computer recognizes it.
Download and save the DeLorme Serial Emulation Driver.
Double-click on the program, and then hit next.
Agree to the license agreement, and hit next. You may have to restart your computer for the changes to take effect.
Hit next, and then Finish.
Locate the DeLorme Serial Emulator icon on the horizontal task bar. Right-click on it, and select Ports.
Pick which NMEA that you need to use from the COM port.
Open up the maps.
In your GPS settings menu, you need to set the NMEA as the device, and pick the COM port that you previously selected.
Turn on the GPS device, and run it.
Your device is now ready to install Streets and Trips. You will now just have to go to the Microsoft website and either buy or download the software. Then, simply follow the instructions that Microsoft provides.