O'Leno State Park and Geocaching: A Unique Geological Experience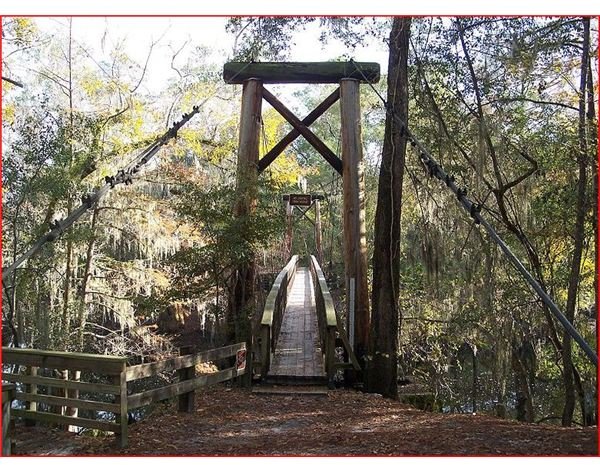 Where Did the River Go?
O'Leno State Park and geocaching are a good combination. Not only is the park situated in a scenic and unique ecosystem, but the building of the park and some of its infrastructure is steeped in history as well. O'Leno State Park is nestled along the thick, green banks of the Sante Fe River in north central Florida above Gainesville, Florida. The Sante Fe is a tributary of the larger Suwannee River, made famous by the song about it. The most intriguing thing about this park is that the Sante Fe River disappears underground at one point in the park and then reappears three miles later in the River Rise State Preserve.
Great Scenery and History Too
O'Leno State Park was one of the first tracts of land ever designated as a state park in the state of Florida. It was developed by Roosevelt's famous Civilian Conservation Corps in the 1930's that was also responsible for building many of the nation's national park's infrastructures. The suspension bridge the CCC built at O'Leno State Park still stands today as a testament to their good work during hard times. While geocaching there, you could also fish (here's some great handheld GPS devices designed for fishing), canoe, or kayak the river. While land-lovers could bike or hike any of the nature trails (spanning the 6000 acres of the park) in between finding caches. And if you're getting pressured by anyone as to why you haven't found a particular cache yet, you can always say "I got distracted by all this beauty and tranquility".
Ample wildlife viewing and birding are available there. It has a full serviced campground and you can rent cabins as well. For a complete list of amenities, and the means to book a stay, visit www.reserveamerica.com. But also keep in mind that there are some great pavilions for picnicking or grilling (grills included on site), just for the day, after an arduous journey hunting down your formidable trinket prey. Watch out for the sink holes by the way, they're out there.
Image Courtesy of https://commons.wikimedia.org/wiki/File:O%27Leno_State_Park_bridge_east01.jpg
The Most Interesting Geocache in the Area
Florida state officials have taken a kindly view toward geocaching and so long as no irresponsible cachers trample or damage park property, this trend will hopefully continue. It's always important to "cache in, trash out" and always treat the land with utmost respect. Geocaching.com is where you'll find geocaching opportunities in and around the park. Just use their map feature to locate what's around. But, in fact; this one, known as the Disappearing River, provides a great opportunity to learn about the geology in the area, specifically the sink hole (known as karst formation) in which the Santa Fe River disappears into. You have to come up with the right answers to the questions listed there to see if you're really in the right spot. It really is quite an amazing geological feature that kids will love, especially if you make up some stuff about pirates and hidden treasure being down in that hole too. For more resources about geocaching in Florida, be sure and take a gander at the Florida Geocaching Association website too. Enjoy your trip; you only get so many sunsets on this rock people.