Magellan GPS Reviews - A Look at the Best Units Available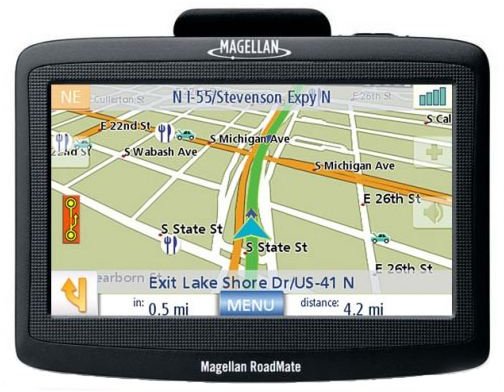 MiTAC Digital Corporation, headquartered at Santa Clara, California, was founded in 1986 and is famous for its Magellan GPS devices. Carrying over 200 patents for its different researches in the GPS technology, the company is now a leading manufacturer, seller and service provider for GPS products.
Among the most famous products that brought Magellan to this stage are the award-winning RoadMate, Maestro series portable car navigation systems, Triton and eXplorist.
The company also offers a range of GPS accessories and software. The official company website says that the reason for its success is its continuous research that strives to achieve the best possible solutions for its consumers.
RoadMate 1430 (3 out of 5)
One of the latest vehicle navigation systems from Magellan, the RoadMate 1430 carries a 4.3 inch touch screen. The wide LCD screen offers you better picture quality for both 2D and 3D maps. It comes with six million points of interests (POI) from across America. It carries maps for all the states of US and most portions of Canada.
The RoadMate 1430 GPS offers live traffic capability. The GPS navigator offers voice prompts with street pronunciation and turn-by-turn directions. With just 0.7 inch depth, you can mount the device on the windshield easily. The built-in GPS receiver can read up to 30 channels at a time.
Note that some states, including California, don't allow you to mount anything on the windshield. In this case, you can easily fix the device to any other part of your vehicle.
eXplorist GC (4 out of 5)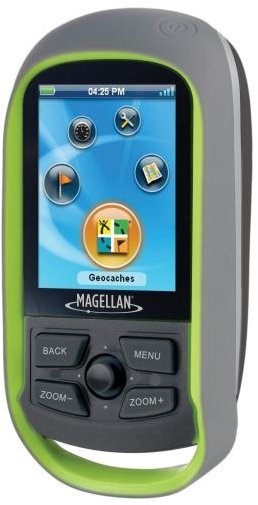 The main users of eXplorist GC are people interested in geocaching and other GPS games. Other than the basic functions of a GPS device (tracking, navigation, and "where am I"), the device also contains a number of features that prove helpful for people interested in geocaching.
With the eXplorist, you can download several characteristics of any cache: name, location, description, hints and other information. You can also access up to 20 latest logs. The eXplorist is linked exclusively to geocaching.com and users can access caches from that site. It does not, however, allow you to customize the URL. This means you can't use any other website with this gadget.
The device runs on two AA size batteries that can keep it going for 18 hours. The size of Magellan eXplorist GC GPS is 4.4 x 1.4 x 2.2. It supports WAAS for better accuracy that is stated to be at +/- 3m. You might not find the display to be very helpful though. It carries a rectangular display of only 2.2 inches (diagonal length).
The Meridian (3 out of 5)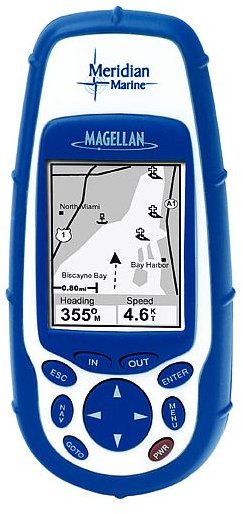 While most Magellan products are built for navigational purpose and the RoadMate series being the most popular, the Meridian is a combo product that can be used for both navigation and hiking. The product is not new on the market, but it's still selling strong.
Users can use it for in-vehicle navigation as well as for geocaching. The Meridian is not quite small enough to be carried in a pocket.
The overall size is 6.5 x 2.9 x 1.2 inches. This drawback to this unit is the 2.2 x 1.75 inch touch screen having a resolution of 160 x 120.
Crossover GPS (3 out of 5)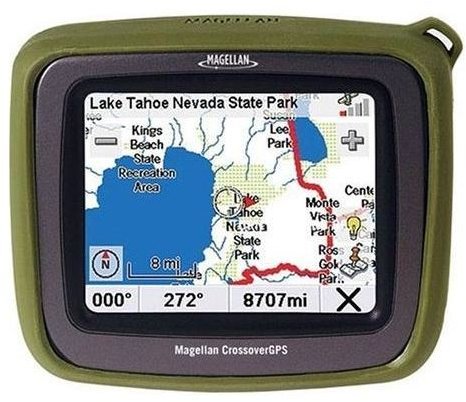 Magellan Crossover is one of the few GPS products that serves multiple purposes. You can use the device for in-vehicle navigation and also use it as an assistant for different outdoor activities such as trekking and biking.
Other than the usual GPS functions, the gadget also includes an MP3 player and a photo viewer. It is water-resistant so you can also take it fishing with you.
The touch screen offers a space of 3.5 inches. It comes with plenty of pre-loaded maps of North America with thousands of POIs. Just as with a dedicated navigation device, you can input your route and if you take a wrong turn, the Crossover will present you with an alternate route.
For outdoor activities, you will find plenty of terrain maps for North America. The device comes with a compass and other apps useful for adventure sports.
Maestro 4250 (4 out of 5)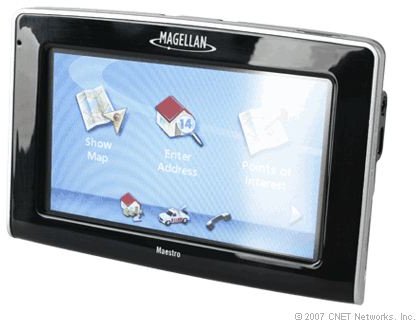 The Maestro 4250 is another great portable GPS vehicle navigation system from Magellan. One of the best features of the device is its ability to look up several POIs to find you one that matches AAA recommendations for discounts. Some of the POIs may be out-dated so you have to watch for this.
It also has the capability of accepting voice commands, meaning you do not need to input all the commands manually.
The touch screen offers a space of 4.3 inches with a 480 x 272 resolution. It employees both multi-tap and EasyText for ease of text input.
RoadMate 1700 (4 out of 5)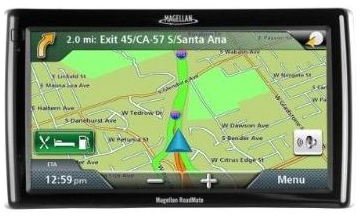 Another device from the RoadMate series, the 1700 offers a huge 7 inch screen; very few portable navigation systems offer this amount of screen space.
The device comes with pre-downloaded maps of all the US states. It also includes maps for Canada and allows you to download Mexico maps for an additional cost.
The 1700 offers you a text-to-voice feature and space for additional memory. It also features QuickSpell and spoken street name guidance.
This is a look at just a few of Magellan's excellent GPS devices - Bright Hub offers several dedicated Magellan GPS reviews, as well as reviews from other leading GPS brands.
References
Images from Amazon.com
Magellan eXplorist GC at Amazon
Downloads for Magellan Meridian