Arkansas Geocaching: Discover Many Layers of Hidden Treasures Here!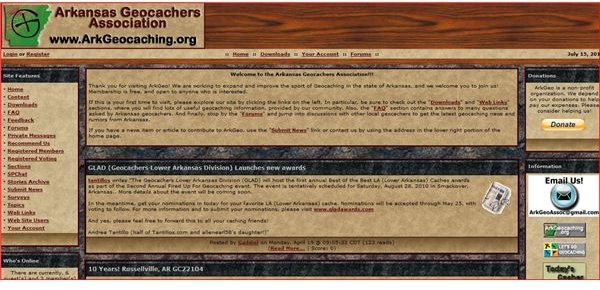 Enticing Details about Arkansas
Arkansas geocaching can lead you to all kinds of nooks and crannies in this south-central state that has The Mississippi River for an eastern border. With a river like that for a border; and the Ozark Mountains to the west (which are popular fodder for many a bluegrass song), it's no wonder that the license plates here bare the name "The Natural State." Furthermore, what you may not know about Arkansas, is that it has more than 600,000 acres of lakes and 9,740 miles of streams. There are 17.2 million acres of forest land within its borders. After a long day of hiking around looking for where the geocache prize is at the end of the riddle, you can even to take a dip in the healing waters of natural hot springs that you can find in abundance in and around Hot Springs National Park.
The state is made up of the lowlands of the Mississippi Alluvial Plains in the east and the Interior Highlands of the west and north. The highest mountain in the Ozarks is Magazine Mountain, which isn't exactly towering at 2,753 feet, but if you bag that peak, who can say that you're not a mountain climber? And if you have a fellow geocacher that is really annoying, you can send him to find an imaginary cache at Nimrod Lake to keep him busy for a long while. The easiest thing to find in this state would be Arkansas Jim, stemming from the fact that I've never been to Arkansas, live 2000 miles from there, and yet I know three separate people who go by that name. It then stands to reason that there are certainly a lot more of them too. Finally, since that name seems part and parcel with local lore, it's important to note just how popular and enlightening combining history and caching can be, which you can read all about in Battlefield Caching. Arkansas is replete with historical places and geocaches are intriguingly intermingled in some of these places and you can always create a new one yourself.
How to Find the Kind of Geocaching Sites You Want to Explore Here
With all the diversity this state offers which was described above, geocaching enthusiasts may have very different ideas about where they want to practice their hobby in Arkansas, based on personal preferences. First of all, Arkansas is very geocacher-friendly and on the official state website (www.arkansas.com/geocache/), you will find that they promote the hobby as a means of also discovering the wonders of their state parks, their wineries, their fish hatcheries, and many of their historic landmarks while looking for a cache. Since it's the 70th anniversary of the scenic National Great River Road, geocaches were placed in 10 counties that border that road which makes for a great multi-cache adventure.
For all the details on the caching sites in this state, listed by city, town, or map, visit the Arkansas section here at Geocaching.com. And be sure to check in with the locals at the Arkansas Geocacher's Association as well. Now you're fully equipped to explore all the hidden treasures that Arkansas has to offer the new-fashioned way, with a GPS device in your hand. Finally, if you're looking for a new model, read up on The Best Handheld GPS Units for Geocaching.