10 Top Useful Geocaching Supplies you Should Bring for Success and Safety on Every Trip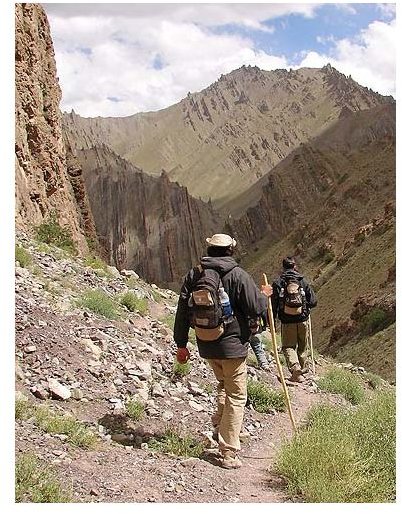 Geocaching Supplies for Safety
Even if you are taking a short day trip for your geocaching hunt, you should bring along supplies for your own personal safety. While you don't want to be overburdened with too much stuff, bringing along the following items will help you be better prepared for different situations:
1. Water
Becoming dehydrated in an unknown environment can be a problem. Everyone who is joining you on your geocaching trip should have at least a couple of small bottles of water with them. A portable water filter can be brought with you for added safety in areas where natural water sources may be questionable. A good one is the "Lifepack Emergency Water Filter" which can be found through the Epic Center.com website.
2. First-Aid Kit
This will be useful in case someone gets a small cut or injury. Be sure the first-aid kit contains bandages and sterilizing pads for cleaning injured areas.
3. Cell Phones
Not all GPS receivers have cell phones attached to them. When you think about geocaching supplies, communication is very important for safety when exploring new places. Everyone in your group should have a cell phone with them to keep in constant communication, especially if individuals get separated.
4. Weather Alert Radio
Weather conditions can be unpredictable in some locations. This special type of radio will give National Weather Service broadcasts (NOAA) to alert you of any hazardous conditions that may occur in the area you are traveling.
5. Sunscreen
Even if you are the type of person who does not burn easily, the sun can be damaging to the skin with long time exposure. Sunscreen should be applied to the face and any other area that is not covered by clothing.
6. Insect Repellant
Certain insects will bite and cause infection. Bringing along a can of insect repellent can help keep you and your geocaching party from being irritated by these small pests.
Other Useful Geocaching Supplies
Success in geocaching trips relies a lot on your ability to locate caches in different places. The use of various devices and items can help you achieve this goal. The following geocaching supplies should be included to be prepared for different situations:
7. Extra Batteries
Most portable electronic devices run on batteries. Bringing extra batteries for your geocaching GPS unit, flashlight, cell phone, etc. will be useful if these devices fail at inappropriate times.
8. Compass and Map
Before GPS, a compass and map were used for directional purposes. A GPS device can fail by some electronic problem or simply lose signal. Having a compass and map will be a good back up to have just in case situations like these occur.
9. Flashlight
Caches are not always found in brightly lit areas. A flashlight is always useful to make it easier to see dimly lit areas during exploration.
10. Waterproof Cache Containers
For those geocachers interested in creating and hiding their own geocaches, the items you store should be in a waterproof container. This will ensure that the future explorers who find it will not be disappointed by damaged items found inside it.
Final Thoughts
Geocaching supplies are useful for safety and success in your exploration endeavors. By bringing along these items, you can focus on finding caches without too much worry and stress.
Image Credit
Image used for the "Top 10 Geocaching Supplies & Accessories for Safety and Success in your Outdoor Adventures" article was by https://www.sxc.hu/profile/krayker K. Rayker.
This post is part of the series: Guide to Geocaching Supplies and Gear for Successful Caching Experiences
In this two part series, learn about the top essential geocaching supplies and gear that are useful for every trip. Regardless if your geocaching adventure is for a single day or longer, these items should be considered to help guarantee a safe, memorable and fun experience.