Garmin GPS Hacks - Cool Ways to Hack Your Garmin GPS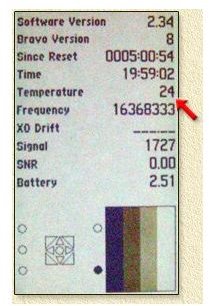 Hacking the Garmin eTrex: Secret Service Menu
The Garmin eTrex has few hidden features, which could be forced to show up, with the help of a service menu. However, the service menu is not accessible directly, and must be invoked with the following Garmin GPS hack.
Note: This is a hidden screen designed only for testing/service purposes, and is not expected to be used by the normal user.
**
Step1: Power off your Garmin eTrex device.
Step 2: Hold the Up + Page keys simultaneously.
Step 3: Power up the unit by holding the abovementioned keys.
This should take you to the service mode, where you can see the internal temperature of eTrex.
You can also find several interesting values including firmware version, current time, status, and system's integrity check.
Warning: Pressing "on/off"+"enter"+"up" keys will result in a hard reset and restore the factory defaults, thereby clearing all the data/personal user info, and any other custom settings on your eTrex.
Note: You can't undo any of the factory restore, and you won't get any warning because this is only for testing/service purposes.
Hack Garmin 2009 GPS Update
Before you perform this GPS map update hack, you need the following pre-requisites.
Pre-Requisites
Download Garmin Key-generator here.
Purchase Garmin GPS with a USB cord, if you don't have one already, and SD card for additional storage.
After downloading the 2009 Garmin North America Map Update, open the WindowsMsi folder, run CNNANT2009Update_ENU.msi (for English) or appropriate file to choose your preferred language, and install it.
After the installation is completed successfully, you should now see the Mapinstall icon; click on the same. Now, you need to find Unit ID from GPS.
To do so, turn on your GPS device, click 'I agree' on agreement of terms and condition, and tap on Settings, Systems, See Unit ID, Note it down.
Now, run the Key-generator, and enter the Unit ID here; this should be entered into the top box. In the Map Product field, select 'custom mapset', enter '325' in the FID field, and click generate.
You should now get the unlock key, and you need to copy this value, and keep it safely.
Installing the Maps
Now, it should be a cakewalk to run Mapinstall program, and click on 'Unlock Maps Button' option, when you see the message that Maps are locked.
Simply click add button when the new window pops-up, and now enter the unlock key generated from the keygen generator.
After adding the key, you just need to follow the instruction, choose the location to install maps, and you should be done with the process.
Note: If you don't have an external SD memory card, your old maps will have to be removed first. To backup old data, you need to copy the gmapprom file located under Garmin folder.
Hacking Kit for Developers
If you're a developer, who's interested in tweaking big time with the Garmin eTrex, here's a handy eTrex hacker's kit for developers.