Learn Some Tips on Using an All-in-One PDA and GPS for Geocaching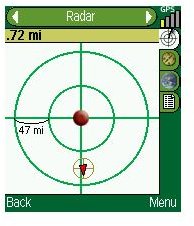 Using an All-in-One PDA/GPS Smartphone for Geocaching
Geocaching allows travelers to find hidden treasures. It's almost like a scavenger hunt, but the only clues come from coordinates found online at places like Geocaching.com. The most common way that people go geocaching is by using handheld GPS devices. But, with the advent of PDA/GPS enabled smartphones, now all somebody needs is their phone. So, here are some tips on using an all-in-one PDA and GPS for geocaching.
The first thing that you want to do is sign up for one of the many geocaching sites. This way, you'll be able to see caches near you or in the location to where you will be traveling.
Adding a GPS App
Next, you need to download some geocaching software apps onto your phone. Geocache Navigator is a relatively inexpensive app that works on a variety of smartphones. Plus, it's a monthly fee, which you can activate it when you need it, and cancel the subscription after you're done. Geocache Navigator allows you to find caches near you and download their locations. It then provides you with tools
that allow you to locate the caches. If you have an iPhone, you can use Groundspeak since Geocache Navigator doesn't work on iPhones. The apps, however, are very similar in usage and features.
Once you have downloaded and installed the software, sync your smartphone to your geocaching account. For example, if you're using Geocaching.com and Geocache Navigator, you can go into your Geocaching.com profile, and then navigate to Access My Field Notes. Select the link for Geocache Navigator. You'll probably have to add the identifier number for your phone, which can be found within the Geocache Navigator software under the Show My ID.
Finding a Cache
Once your PDA/GPS smartphone is updated, you can now start searching for caches. If you have installed Geocache Navigator, you can select the Quick Cache icon, which will bring up the closest caches to your location. You will need to be outside in a clear location to get the best satellite signal.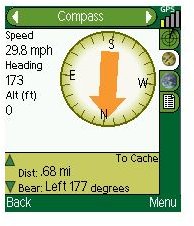 Scroll through the caches, and find one that you are interested. Some caches require you to sign up for a membership, but it's up to you. Most can be accessed without subscriptions.
Navigating to Your Chosen Geocache
If you have never done geocaching before, find a cache that is in an area with which you are familiar. Use the step-by-step directions on your phone or car GPS device to get you as close to the cache as possible. After that, use your geocache software to get you to the cache.
Many will come with a compass mode that will point you in the direction of the cache. Another mode is the radar mode, which will continually show you your GPS coordinates.
Even with these tools, your PDA/GPS smartphone will only get you within a few feet of the cache. Then, you will have to do some hunting on your own.
You might also be interested in reading Bright Hub's article series on finding the best GPS unit for geocaching.