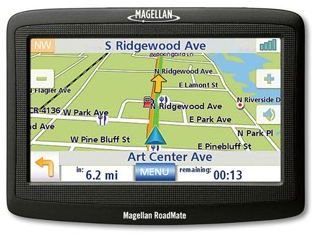 Free Magellan GPS Maps
"We'd better find a bathroom soon."
I didn't have to ask why. We were less than halfway through a nearly ten hour drive. Actually, I needed to go soon myself too or I'd be in danger of "floating away".
"What's around here? Looks like we're really out in the boondocks."
We were already using our Magellan GPS in-car navigation device to track our route to the small New Jersey coastal town of Brielle. Now though in route, we needed more local information.
"Yeah, but let's check the GPS to see if anything's nearby."
A couple of quick push-button commands on the dashboard-mounted Magellan unit quickly turned up a K-Mart off of an upcoming exit. Problem solved. We no longer had to worry about "floating away". A download of some free Magellan GPS maps had added the extra information we had just accessed only a couple of days earlier.
Generally, maps which are supplied by Magellan and some other GPS manufacturers tend to be very basic in their coverage and often may not include smaller, less prominent geographic and other features such as:
Little-used private or industrial roads

Hiking and other types of trails and pathways

Small streams

Small rural or man-made lakes or ponds

Details in rural, rustic or wilderness areas
This is why some free Magellan GPS maps can come in handy. Magellan manufacturer-supplied maps do however typically offer very good coverage of major metropolitan areas and important features in well-developed sectors though. If you'd like to expand the available GPS information for a particular area, you can download free Magellan GPS maps or Magellan-compatible software from a number of sites online. This Santa Clara, California-based company features a product line of hand-held outdoor GPS devices and GPS products for in-car navigation systems.
Free Online GPS Tools
With the popularity of GPS-based devices growing world-wide, the demand for free online GPS tools is sky-rocketing. There should continue to be an ever-increasing supply of available products as the need for them continues to grow. Some of the myriads of uses for GPS devices include orienteering, geocaching, hiking in national parks and wilderness reserves, field navigation for search and rescue, recreational and commercial fishing, in-car navigation, ocean transport navigation, commercial and recreational flight navigation, sports car rallies, military orienteering, and a host of others. The current top seven GPS product manufacturers which supply and utilize free online GPS tools and free online GPS software are:
· TomTom
· Garmin
· Magellan
· DeLorme
· Trimble
· Lowrance
· Navman
GPS maps, tools and software can be either platform-independent, brand specific or device specific depending on the application you are interested in. Read this helpful GPS buying guide for tips on what to look for before purchasing a new GPS device.
Some useful free online GPS tools include:
MMO Converter is a utility designed to convert map (*.img) and layer (*.lay) files from alternate sources into a format compatible with Magellan receivers before upload. This can be used to join custom GPS maps with exiting maps.
EasyGPS is a free online software utility you can use to transfer tracks, way points and routes between your laptop or PC to a Magellan GPS receiver.
G7ToWin is a free software program designed to interface between your laptop or PC (Windows Vista, XP, Linux) and Magellan, Garmin and Lowrance / Eagle hand-held GPS receiver devices.
GPS3D is a suite of software programs designed to control GPS hand held devices and show location results in three dimensions.
Kashmir 3D is a free downloadable software package which allows 3D navigation in hand held GPS devices and also can be used to produce 3D maps and landscapes.
Map Send Lite is another free online GPS tool which enables users to interface Magellan GPS devices and a PC or laptop.
PicMeta Photo Tracker allows you to connect your GPS device to your digital camera – just think of the possibilities of this one!
QuakeMap is another interesting, useful free online GPS tool software package which links your Magellan or other GPS device with your digital camera to produce digitally encoded and coordinate-stamped images and PC or laptop computer screen maps.
Free Magellan GPS Software
There are literally hundreds of downloadable applications for the major GPS unit manufacturers. The free Magellan GPS software listed here is but a small sampling of the many useful free online GPS tools currently available with the online list expanding on a regular basis. Try some of these free Magellan GPS map application software programs out for yourself to further expand the many capabilities of your hand held or in-car navigation device. Then when on the go, you too will be able to find what you need, when you need it, just like we did.