Make Garmin GPS Comparisons to Pick the One You Want to Buy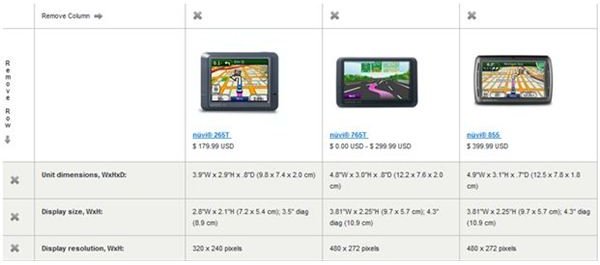 Introduction to Garmin GPS Devices
Trying to buy a Garmin GPS unit can become a little difficult because of sheer amount of choices! 27 models with a range of functionalities takes careful thought in zeroing on the one that is right for you. Especially if you have never used a GPS unit before. The best way to deal with this situation is to decide on the features that you need and how much you are willing to pay for the device. Thereafter, the task of choosing can be a little bit simpler. You can look up some more useful resources about GPS comparisons in the following Bright Hub articles:
Top 5 Portable GPS Units for Outdoor Enthusiasts
GPS Feature Comparison: Top Must-Have Qualities in a Fully-Featured GPS Unit
General GPS Comparison Guidelines
One of the first questions to settle is whether you need just the navigation function, or all the useful points of interest (POI) information. If you travel a lot, the latter POI database will be useful. Other things to consider are whether you need voice-activated controls whether you need Bluetooth capability; whether or not you desire to play games OR view photos on the unit; etc. It is possible to break down Garmin units by price range and then look at the devices in each price range.
Low priced devices (less than $200) usually have a 3.5 inch screen size, although wider screens are becoming available. All of Garmin's devices feature excellent navigation based on Navteq's map database, although whether you get 49 states or US-plus-Canada will depend the model you choose. Other standard features are "Where am I?" which tells you with the push of a button your current location and nearby emergency services, an MP3 player and photo navigation. Bluetooth, Traffic Receiver, MSN Direct and FM Transmitter are options that vary from model to model. Some models such as the 205W, 265 (including variants), and 275T come with lifetime traffic information from Navteq. The higher end models tend to drop this in favor of the Traffic Receiver.
Medium priced devices ($200 - $300) have pretty much all the features of the lower end devices. in addition these devices tend to add either a lane assist feature or a multi-mode navigation feature. These are generally in a 4.3 inch screen size form factor. Some of the devices add a 3D buildings feature, photo viewer etc. MSN Direct, Traffic Receiver, Bluetooth, and FM transmitter are once again options. Garmin Locate, or "where's my car?" feature is added in addition to "where am I?" which automatically records the spot where the device is taken off the mount.
High price devices (more than $300) are generally differentiated from the others with the inclusion of a voice-activated interface. The speech recognition makes it pretty much the best navigation software around (for not just Garmin devices but any GPS units, period). Although most of them are in the widescreen 4.3 inch screen-size form factor, the nuvi 5000 comes in an extra wide 5.2 inch screen size form factor. There are the options for Traffic Receiver, MSN Direct, and Bluetooth that tend to differentiate the these models.
Making a Garmin GPS Comparison
Apart from seeking out comparison tables at third party sites, the better option is to seek out Garmin's own comparison page. For example for the Automotive models (Nuvis) the link leads you to a product page. You can get to a comparison page that lets you take a look at comparison of functionalities as shown below.
The rows in white show features that are the same across the three models. Of more interest are the rows in grey which show the differences. In our example (a comparison of 265T, 765T and 550) the first gray row in the picture above shows that only the 550 has Voice-activated navigation (i.e. the speech recognition feature).
Overall, this is an excellent comparison tool and is pretty much all you need to decide on what your best option is. Once you have decided on a budget range, simply select options fitting in (or near) that range and by going through this list you should be able to pick out a winner.