What is the Easiest Handheld GPS to Use?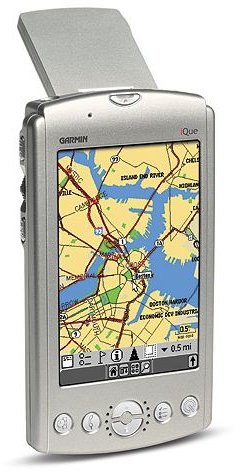 Overview
User-friendliness is one of the most crucial aspects of a handheld GPS device, because you're most likely to use a handheld navigation unit on-the-go. As such, it may be quite irritating and inconvenient to tackle the complex navigation menus, or read the instructions on a small screen size. The selection of a good handheld GPS device also varies on factors like voice recognition capabilities, text-to-speech conversion, Bluetooth compatibility, and much more. Now, let us try to figure out what is the easiest handheld GPS to use, keeping all the above-mentioned factors in mind.
The Garmin iQue Series
The Garmin iQue GPS units based on Microsoft PocketPC handheld PDAs were an ideal combination of a PDA, and a GPS navigation units. These handheld GPS navigators have been in the market for quite sometime, and come with a large screen.
Despite the large screen size, they aren't that bulky; you can carry them in your pocket with great ease. They have a rechargeable battery, and the GPS maps can be loaded on external SD MMC units.
The Garmin iQue series navigators have intuitive menus and a large database of Points of Interest. What's more, they can be integrated with your calendar and PDA address book as well.
You can enjoy voice directions with an integrated speaker, and also various dashboard mounts with DC power. Its map sets are updated every odd year, but the bad part of the story is that they cost you about $80 per update (ouch!).
The early 3200 models were a little crude, but they never had any complaints. The latest generation Garmin iQue series navigation units make up an ideal choice as a handheld GPS device, except the fact that they don't have support for Apple Macintosh users!
However, they've been currently discontinued from the current lineup of Garmin – in case you're looking for a cheap used handheld GPS navigator, they're still worth your money.
Garmin GPSMAP 60CSx
The Garmin GPSMAP 60CSx comes with speedy satellite locking, and lightening fast map rendering capabilities, thanks to its new SiRF star III chipset. This is perhaps one of the best GPS navigators from the house of Garmin that's not only ease to use, but also loaded with top notch features.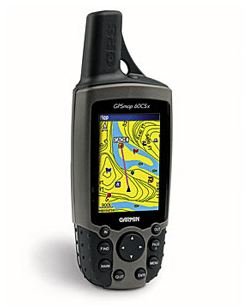 It is pretty similar to the Garmin eTrex Vista Cx (for hiking purposes), but it is rubberized too. This water-resistant Garmin GPS device has a 2.6-inch color screen, and it also comes with a special Geocaching menu.
It is also equipped with a barometric altimeter, as well as an electronic compass. North American base maps are pre-loaded in the Garmin GPSMAP 60CSx, and it comes with 64MB removable microSD memory card. Additional cards are also supported, and it produces best results when used in tandem with the Garmin MapSource software, though you'll have to shell out additional $80 for it.
Furthermore, the Garmin GPSMAP 60CSx is not just one amongst the easiest GPS to use, but also a lightweight one that hardly weighs seven ounces.
It has excellent operating-life of 18 hours, and it runs on a couple of standard AA size batteries. Available around the $400 mark, the GPSMAP 60CSx is currently considered to be Garmin's best all-around handheld GPS
Magellan eXplorist XL: A User-Friendly Navigator with Biggest handheld-GPS Screen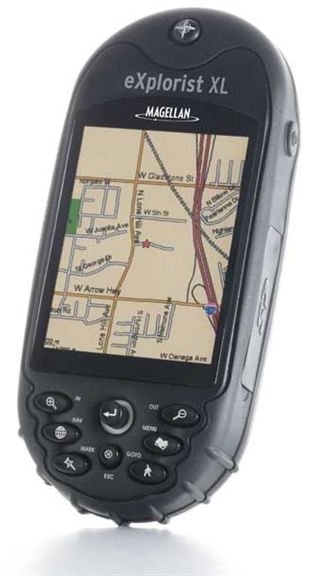 If you count out the Garmin portable navigators, then the Magellan eXplorist XL is one of the easiest GPS to use, which comes with a massive 3.5inches wide screen. However, it lacks advanced stuff like electronic compass, altimeter, and turns out to be rather bulky.
Weighing more than 12 ounces, the Magellan eXplorist XL boasts of being viewable even in bright sunlight, making it one of the easiest handheld GPS to use in day time.
It comes with fairly low user-available memory of 30MB, but you can use the optional SD memory card slot to make it up.
One of the biggest downside is the low battery life, of lesser than 15 hours, and the bulky nature of the device is not liked by too many users either.
If you're just worried about user-friendliness and ease of usage, the Magellan XL GPS is probably the best non-Garmin handheld navigation device, available around the $300 mark.