How to Use an Earthmate GPS: Simple Instructions to Get You Going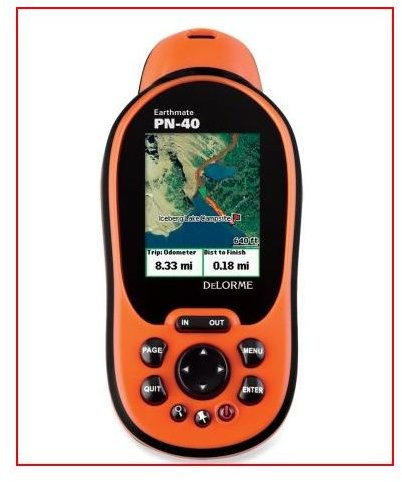 DeLORME Earthmate PN-40
The DeLORME Earthmate PN-40 is renowned for its Topo quad maps and aerial imagery coverage (especially for how quickly it updates when you're moving) but the user interface isn't really all that intuitive. One of the easiest GPS devices to operate for a novice picking it up right out of the box is a Garmin Oregon but it also has some different drawbacks. To read about the latest in that model evolution, read New Oregon Products from Garmin: Oregon 550 and Oregon 550T for concise reviews about all this rugged outdoor touch screen has to offer.
But if you're reading this you most likely already own a DeLORME PN series and are looking for the directions that follow. Just remember that this DeLORME is loaded with great features like the Triaxial compass that works when you're moving, an altimeter with barometric pressure data, and incredibly fast satellite acquisition. And of course the aerial imagery which is even sharper in the PN-40. Once you've learned how it functions with some study you'll undoubtedly be happy with this unit that's designed to take anything the great outdoors throws at it.
Here's How to Use an Earthmate GPS PN-40
To power up, hold the power button next to the thumb tack button and the "Welcome" screen appears. To turn it off, press the power button then a confirmation box appears telling you to press **Enter** to power down (so you don't accidentally turn it off).

The first time you turn it on, a Demo mode appears. It's a good idea to follow the onscreen prompts a few times to see this tutorial. To exit Demo mode; press Quit. The Quit button will get you out of any screen you go into that you don't want to be in, almost like the back button on your web browser. In order to connect your device to the computer, you must disable Demo mode by pressing Enter from the first screen to clear the Show at Startup check box.

The In/Out will zoom in and out when you're on a map or when scrolling through a list.

The Page button moves you through the Default pages (which you can reorder and tweak when you're more familiar) Satellites > Map > Compass > Trip Info > Directions.

When on any of those pages, pressing Menu will bring up the functions menu for that page.

The Find button (the magnifying glass symbol) allows you to search for a waypoint, POI, geocache, address and more by name or its proximity to the map you happen to be viewing.

The Mark button (the pushpin symbol) will mark a waypoint at any position you happen to be at when you press it. When you do mark a position you want to access the details page to input all it can be used for. If you're unfamiliar with the definition, importance, and multiple uses of waypoints, read up on it at What is a GPS Waypoint?

The Arrow Keypad is there for you to navigate on pages and screens and it's what you'll use to highlight letters and symbols on the Keyboard when you're labeling and making comments about waypoints for example.

You'll need to play around with the PN-40 until all its functions, buttons, and screens become intuitive which you should do at first while having access to this article and the next link I give you below to the User Manual to ward off frustration.
DeLORME PN Series User Manual Link
Here is the complete Earthmate PN-Series User Manual. If you have any specific questions or concerns take a look at the Table of Contents to see if it's covered there. One nice feature is that you click any heading in the TOC and it takes you right there. Since this manual is 89 pages long the less scrolling you have to do, the better. Try to be patient and never forget that exploring has been an age old passion long before these navigational devices were even a vague idea in a dreamer's eye.
Also for some additional details on the varying features, performance, and price to value for the DeLorme PN-20, PN-30, and PN-40 please read Top Three DeLorme GPS Models Reviews. Find out the difference in memory capabilities as well as mapping functions between these three models.