These Geocaches In Imperial County are Exceptional Adventures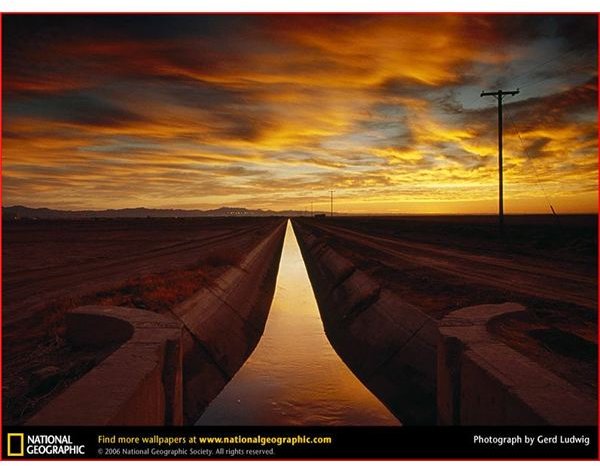 Where Desert Meets the Sky Plus a Whole Lot More
Imperial Valley geocaches offer something for everyone depending upon your level of skill and enthusiasm for this activity. There are opportunities for those who want to drive and find caches that aren't far from a road, parking lot, or in a town. The educational variety that might teach you a little local history are also an option. Within the confines of this fast growing valley in California are geocaching hunts which involve a little bit of hiking or an all out trek through some serious desert country. Combining other outdoor sports like rock climbing or biking (mountain or road) with a geocache pursuit is also a possibility.
If you're reading this you might already know that Imperial Valley and Imperial County are more or less synonymous for the area of land in the southeastern corner of California. The Salton Sea dominates the northern reaches of the valley while the Colorado River, leached by culverts in many places to irrigate farms, flows on down to the south at the border with Baja, Mexico. It's a hot and dry climate, offering some unique terrain that fosters a desolate kind of beauty especially when the sun is making its daily departure from the horizon. The place has some interesting history to it, and got its name long before the butter company liked the sound of it too. Spanish explorers roamed the area in the 1500s so who knows; maybe you'll find a Doubloon or two that fell out of one of their panteloñes pockets while you're out digging up dirt looking for one of the geocaches in Imperial County.
If you're looking for a good run down on the particular kinds of caching exploits that are possible out there, then read Types of Geocache Hunts It will be helpful to know that stuff before you get to the specifics I pinpoint below.
The Best of Imperial Valley Geocaches
As with all the places I highlight in this series related to the most popular places to be geocachers in a given area, you'll want to check in with the websites dedicated to giving all the details necessary for you to track down your prey whether it's hidden in a big ammo box, a parmesan cheese container, or a tiny micro-cache container. Those would be Geocaching.com, Navicache.com, Terracaching.com, Earthcache.com and in this case, Socalgeocachers.com. With that said, I'm still going to give you some specific spots that are favorites below.
El Centro and Mexicali are the biggest metropolises in these parts and there are a bevy of GPS assisted scavenger hunts around there. Here is the comprehensive list for that area on Geocaching.com. This site has an awesome map feature you can click on that will pinpoint all the caches in the area and then you can just click on the one that seems appealing to you because of either the name or the location. A little bit of browsing and you can make a custom list with what appeals to you most.
Personally I think a visit to the cemetery is a good idea every once in a while to make it clear that you're going there yourself someday so you better enjoy what counts while it lasts. So check out Imperial Cemetery and this virtual cache known as Watch for the Spirits. The area around the Salton Sea has some really interesting geological features such as sand dunes, mud pots and volcanoes that are worth checking out. Here at Waymarking.com you can learn a lot more about them and then find them yourself with this geocaching variation known as waymarking. Make sure you read the whole thing as there are dangers here you must be aware of. Venture out here without enough water and you'll start seeing alien space crafts before too long. And if you want to venture out into the middle of nowhere in that desert with an ATV, Sand Dune might be for you.
Alright, with those resources you have more than enough to make your own list to work off and bag as many geocaches in Imperial County as you can when you're there. Now we will continue to crisscross the United States in this series. Since we've already covered Maine, the middle of the country is up next with expeditionary options in Michigan.
This post is part of the series: The Most Popular Geocaching Localities in the United States
If you're an enthusiast on the proverbial prowl for what may lie around the next bend, you'll want to know where some of the most popular geocaching areas are in the United States. Find out where they are based on some important criteria and then make your list and hit the road to the trail.