Four Free Geotagging Software Tools for Beginners - Easy to Use Software for Geotagging Photos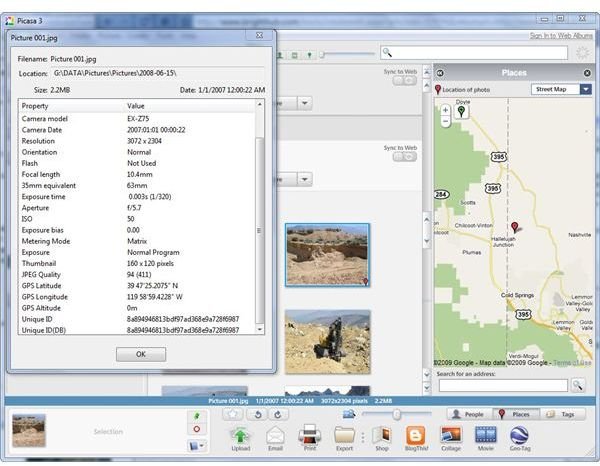 Geotagging Digital Photos
There are a number of reasons why you may want to consider geotagging your digital photos. Like other types of descriptive tags, geotags can be very helpful when trying to organize and manage a library of digital photos. Also, these geotagged photos can be attached to maps (both privately and online) to give viewers a better idea of what an area looks like.
Due to the increasing popularity of geotagging, there are a number of software applications on the market that make it easier to add geographical information to digital photos. These programs are quite varied – some allow data to be input via GPS tracklogs, some allow users to manually enter the information, and many more allow both. In fact, many applications don't even require that you have a GPS device of any sort. Instead, they allow you to look up and select a photo's location on a map, and then the software automatically updates the image with the GPS coordinates of that location. While this may not be as precise as using a GPS device, it's still usually "good enough" for most geotagging purposes.
Here, we'll take a look at four free geotagging tools that you can use to assign geographic location information to digital photos. There are quite a few of these products available, but this list is restricted to those that are the easiest to use and allow manual input.
Picasa 3
Picasa is a free photo viewer and basic editing tool from Google that lets you locate and apply geotags to digital photos with the help of Google Maps – or Google Earth if you have that application installed as well.
Google Picasa may not have all of the extra features found in other geotagging applications, but it is extremely easy to use. This makes it a nice choice for beginners or for those who want to attach their photos to Google Earth maps.
Microsoft Pro Photo Tools 2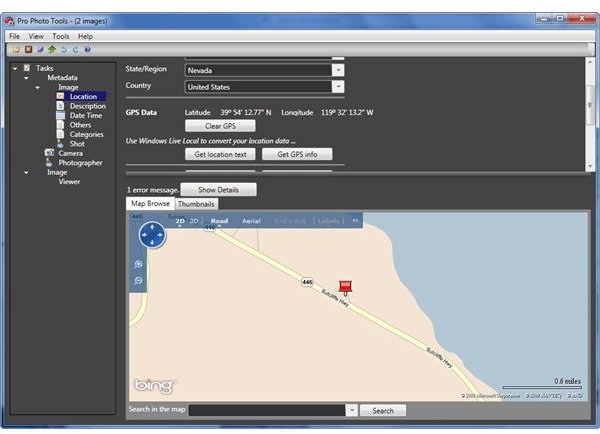 If you're looking for an application with a little more functionality than Picasa, you may want to check out Microsoft Pro Photo Tools. With Pro Photo Tools, you can geotag a photo manually or by loading tracklog data from a GPS receiver.
One of the nice features about Pro Photo Tools is that it not only allows you to add GPS coordinates, but you can also look up more user-friendly descriptions to include in your tags. So, in addition to having the latitude and longitude of the location where a photo was taken, you can also update the city, state, country, and other location information as well.
GeoSetter
Another popular free geotagging application is GeoSetter. In addition to being able to synchronize GPS data with track files and manually apply information by finding the photo's location with Google Maps, GeoSetter also allows you to save favorite locations and apply this data to other photos with just a click of a button. This latter feature is particularly nice if you regularly take photos in a specific area.
As an additional feature, GeoSetter lets you export images to Google Earth. After the export process is complete, GeoSetter will ask if you want to open Google Earth to view your photos in that setting – you can either do that right away or wait until later after you've geotagged the rest of your photos.
GeoImgr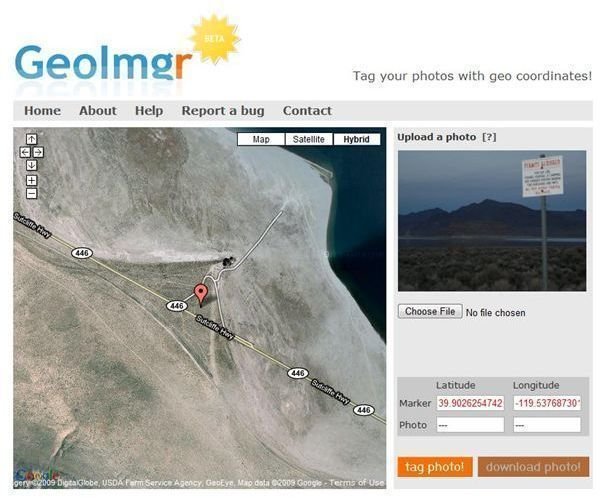 If you don't regularly geotag photos or if you don't want to download additional software, you can still apply GPS coordinate data to your photos with the online service GeoImgr.
GeoImgr is a very basic web application that lets you upload a digital photo, search for the location where the photo was taken, tag the photo with GPS data, and then download the photo again. Since the process involves uploading and downloading each image individually, it's not something that I would recommend as a sole geotagging solution. However, it's nice for those cases when you only have a couple of photos to tag or when you're working remotely and don't want to install more software on a seldom-used PC.