Where to Find Geocaching Logs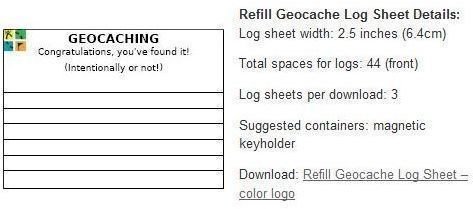 Overview
There are several basic geocaching log templates and documents that you can download and print at no charge. There are also more sophisticated logs and logbooks you can purchase with features such as waterproof pages. Read on to determine which type of log you require and where to find one that suits you.
Free Printable Geocaching Logs
Several geocache-related websites provide free, printable geocaching logs that you can download and print any time. The Texas Geocaching Association has a page with several printables, including a Microsoft Word template for a mini-logbook. Be sure to print this geocaching log double-sided, as the template provides information and instructions on one side and a log on the other. In addition, since this printable logbook opens as a Word document, you can customize and alter it as you see fit. To download and print this free geocaching log, click here.
TechBlazer offers several free printable geocaching logs to fit inside of various sizes of geocaching containers, such as bison tubes, 35mm film canisters and magnetic keyholders. They even offer geocaching logs for nano caches. Click here to check out the variety of geocache logs you can download and print at TechBlazer.
If you are a member of the Manitoba Geocaching Association, you can download and print PDF versions of their logbooks, which come in three different sizes. The large geocaching logs print two to a page, the medium size logs print three to a page and the smaller logs print four to a page. While you don't have to be a member to print these logs, they do contain the association's logo and a note stating that the cache was hidden by one of their members. Click here to see the logs and even join the association, if you desire (it's free).
Geocacher University offers what it calls an Emergency Geocaching Log along with several other sizes of geocache logbooks from nano cache to match safe to bison tubes. The site also provides tips regarding the best paper to use, how to print the logs and even a video showing precisely how to fold the logbooks after you print it. Visit Geocacher University here.
Preprinted Geocaching Logs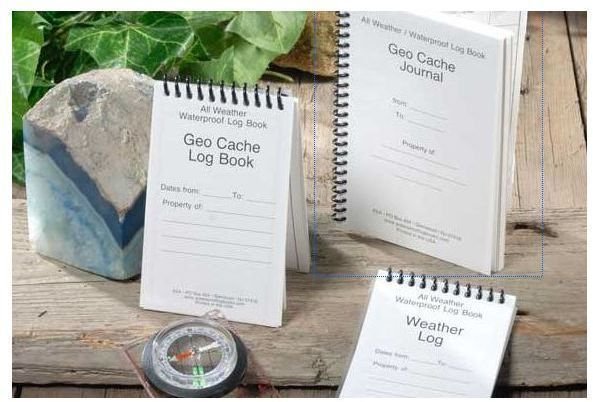 Many vendors sell special preprinted geocache logs, as well, and most of these logs are water-resistant and even tear proof. The aptly named Water Proof Log Book site sells a wide variety of nature logs and journals, including geocaching logs. The books are so completely waterproof that they will actually float, and yet allow you and other geocachers to write in them. One potential downside of ordering geocache logbooks from this company is that the only way to purchase them is via mail order. To do so, click here, download and print the mail order form and send it off along with a check or money order for the amount plus shipping.
WaterproofLogs.com is another vendor of special geocaching logs. They offer spiral-bound geocache logbooks in two sizes - 3"x5" and 4"x6". The smaller logs come in yellow or green, while the larger is only available in yellow. They also offer three sheets of blank waterproof paper for just under $2, so you can create your own geocaching logs, if you choose. This retailer does offer online shopping options. Find out more here.
Just about any geocaching-supply retailer will have some type of geocache logs. My Geocaching Store has preprinted logbooks and log sheets as well as waterproof inkjet paper so that you can design and print your own custom geocaching logs. Geocaching Gear sells a variety of decorative, hardcover geocache logbooks. And, of course, Geocaching.com's online store offers some geocaching logs in its collection of cache essentials.
Related Articles
To learn about what else you might need to create or find a geocache, check out the Bright Hub geocaching library with titles such as Find the Best Geocache Containers, Making That Geocache Stash Very Difficult to Find and Where to Find Trackable Geocoins.