Top TomTom GPS Units for a Range of Budgets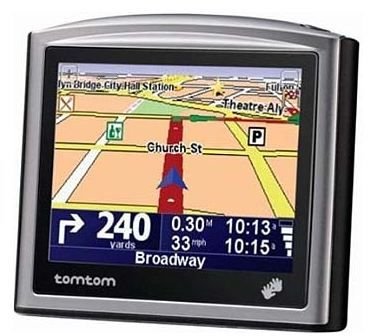 Cheapest Cost - TomTom One Portable GPS Navigator
The TomTom "One" is a top GPS unit because of its user friendly interface and compact portability. This 3.5-inch navigator requires no programming or software to set it up. It also has a touch screen, multiple voices and languages, 1 GB storage and three hours of battery life.
You can also install the "TomTom Map Share" software that is integrated with the TomTom One to your PC simply by attaching the USB connector to its port. Once installed, this software connects to the TomTom website and allows you to download current map updates to your unit from your computer.
You can also make adjustments to the existing TomTom maps (like adding roads). Any updates you make will also be accessible by other TomTom users. The device connects to TomTom Live Traffic for real-time road activity with audio turn by turn instructions that includes a variety of TomTom GPS voices.
Finally, the portability of the device allows you to easily attach it to your dashboard with a rotary suction cup.
Average price is $100.
Mid-Priced Model - TomTom XL 340 S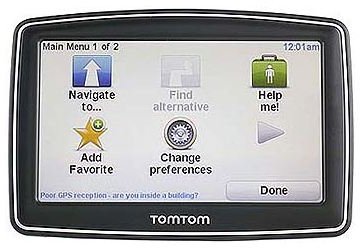 This TomTom GPS unit is a bit more advanced than the "One" model. It has a lane guidance feature that can show you details of current freeway interchanges.
IQ Routes is another interesting feature, by using historical speed and time data from existing TomTom users, routes can be more consistent with current traffic conditions. Like the TomTom One model, you can connect the XL 340 S to your computer via a USB connector for current map updates and customized adjustments.
The XL 340 S has a larger 4.3-inch WXGA touch screen with a two inch speaker in back of the unit. It also has bigger keys for better readability. POIs can also be searched by category or name. Directions are given from text to speech in a variety of voices, which include French, Spanish and English languages. Additional voices can be downloaded from the web that includes some popular celebrities.
For an added subscription cost you can even download current gas prices.
Average price is $140.
Top High-End GPS Choice - TomTom GO 740 Live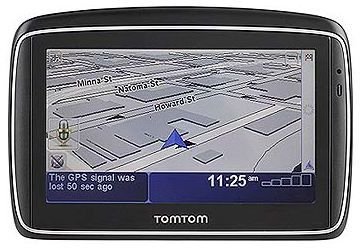 Consider the TomTom GO 740 Live GPS device if you are looking for a GPS with a multitude of features.
The device links to real time data via a cellular connection, It is connected to TomTom Traffic, which gives it updates every two minutes from a commercial traffic site and "HD Traffic" information that is pulled from other TomTom devices in your area. However, for this service you will need to pay $10 per month.
When you use the GO 740 Live for directions, it has a preview feature that allows you to see the route before you set it. If you don't like the route it displays on its 4.3-inch TFT LCD touch screen, it can show you alternate choices. Your chosen route is even given with text to speech directions.
The GO 740 also has a voice recognition feature with 130 programmed commands. Like the other models, it includes a variety of TomTom GPS voices for turn by turn directions (and others that can be downloaded).
This top TomTom GPS unit can also handles hands free calling with your phone via a Bluetooth connection. Another interesting feature is the Local Google Search portion of the device which allows you to find specific locations within a city, destination or nearby your current location.
If you are looking for gas, you can also search for prices by grade/type/cost. It also has 2 GB of internal flash memory with a micro-SD slot for additional space.
Average price is $349.
Resources
TomTom official website - https://www.tomtom.com
TomTom One Portable GPS Navigator - Amazon.com product page
TomTomXL340S - Amazon.com product page
TomTom Go 740 Live - Amazon.com product page
Images provided with permission from Amazon.com.